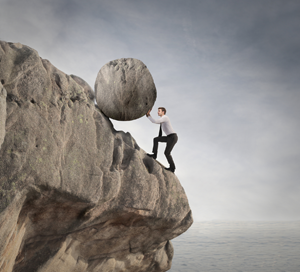 The founding team of a B2B software company is usually extremely product focused. They often start their company when they stumble across a business problem with no good solution. After a lot of hard work, they've kicked in their jobs, the first version is done, and they're ready to launch.
The launch goes well, there's (hopefully) some initial traction, and a number of early sales are made. Once the initial hype has settled, though, a grim reality begins to surface. They have a great product, and people are using it, but they're not growing as fast as they'd like, and are rapidly burning through cash.
This part of the software/technology start-up lifecycle is frequently described as the "valley of death" -- a period where losses are at their highest, and where many software companies struggle the most. You can see the valley of death as illustrated below, by Osawa and Miyazaki, 2006.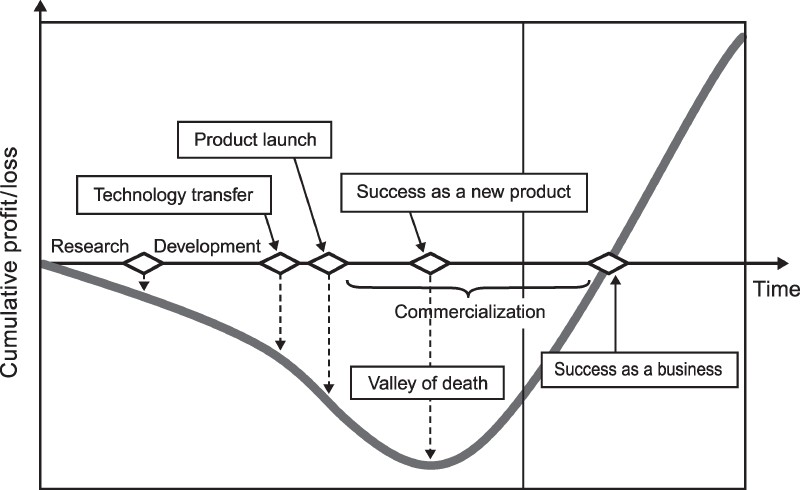 It's during this stage that many software start-ups make a sudden realisation. They need to learn how to market and sell more effectively to survive. It's not enough just to have a great product, but they need to really focus on getting their product out there, and drive leads into and through their sales & marketing funnel. They then reach a point of inflexion, whereby they either succeed, or perish.
In today's post, I share 5 tips that will help your company to market its business software, and survive the valley of death.
1. Publish Problem Solving Blog Posts
If you look at the most successful software-as-a-service vendors, you will notice most of them blog frequently. That's because it works. By creating blog posts that help your customers to solve problems and challenges closely related to your software, you can vastly increase awareness of your brand and solution.
Blog posts can drive traffic in a number of ways, but two of the most powerful are search and social media. Quality blog posts can go viral within your industry on social networks, and the best posts acquire links and rise to the top of Google search results for relevant queries.
2. Better Monitor Customer Activity
One thing many software providers neglect is to closely monitor the way customers use their software. Every piece of software has a series of onboarding steps, and if your customers take out a trial, for example, you want to monitor their progress through that onboard process. You need to know if they get stuck, so you can send them automated emails or put a member of the team in touch to help them make it to the next step.
Intercom is a great piece of software for this purpose. It helps you to visualise how customers are using your application, and both manually and automatically reach out to them to maximise trial conversions, and minimise churn. If you sell project management software, for example, Intercom could give you visibility on those users who haven't yet invited any of their team members, so you can reach out to them and find out why not.
3. Publish Free Guides & Whitepapers
Free guides and whitepapers are one of the best ways to generate leads. Guides and whitepapers help your prospects with challenges they face in their business, and one of the best ways to promote this content is through your blog posts.
One of the best examples of a software company that uses guides and whitepapers to great effect is HubSpot. Their marketing library is full of eGuides, whitepapers, templates, checklists and other free resources that help their target market to solve the problems that their software solves. They're doing pretty well.
4. Host Helpful Webinars
Webinars are more personal than whitepapers and free guides, and allow you to speak more directly with your prospects. A typical webinar will be less than an hour long, and dive into a particular challenge. The key to running successful webinars is to keep them educational, rather than promotional. No one is going to sit through an hour of your team rambling on about its software.
Your prospects are all asking: what's in it for me? So make sure that's clear when you promote your webinar, and that everyone who attends will take away something valuable from it, rather than feeling like they were cheated into sitting through a sales pitch.
GoToWebinar is one of the most popular webinar hosting applications, and it integrates with lots of other software to help you to market it effectively, and collect registrations.
5. Leverage Marketing Automation
Software companies often love the concept of marketing automation. They build software that automates some process or another, and marketing automation software does that for many of your key marketing activities. Some of the things marketing automation software can help you with include:
Sending out super-targeted emails to people who have downloaded your eGuides, whitepapers, attended webinars, etc, in order to encourage them to take the "next step". Not just bulk email, but personalised emails which are only sent to people which perform specific actions on your website, that consume specific pieces of content or are at a specific stage in the sales lifecycle.


Providing a centralised marketing database that contains everything from your current customers to prospects, so you can keep in touch with them and provide your sales team with detailed information on their activity.


Integration with your user database. Most marketing automation software providers have API's which allow you to plug-in your data and activity information, so that you can setup your marketing automation software to perform specific actions when prospects or customers perform specific actions.


In some instances, provide you with a marketing hub which helps you to track everything from search engine visibility to landing page conversion rates, all in one place.
We are ourselves a HubSpot partner, and find it to be the most effective marketing automation software available for software companies looking to step up their marketing efforts.
So get to work! There's a lot to be done. If you want your new software to be a success, your sales and marketing effort is just as important as your product development. There are a number of ways to develop and implement a strategy that works for your business, whether that's hiring an agency, or trying to build out your own sales & marketing teams. Don't sit idle, though. Your software won't sell itself.