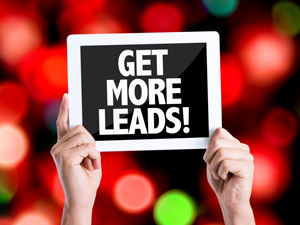 Lead generation is a major challenge for SaaS companies.
With pressure on directors to achieve exponential growth targets, you can never have enough leads coming in through the front door.
Which techniques work, though?
In this post I discuss 5 ideas SaaS companies can use to build their contact databases.
1) Free eGuides and Whitepapers
One of the most effective ways to generate SaaS leads is to work on building up a library of free eGuides and whitepapers. The point of these eGuides and whitepapers isn't to promote your company's software solution, but to offer help and advice to your target personas.
If you're selling a CRM system to estate agents, then you should focus on building a collection of content that will help estate agents to get more properties on their books, and sell more of those properties faster.
If you're selling accounting software to SMB's, you should create guides which will help small business owners to better manage their business' finances.
By creating this content you establish your company's website as a go to place to secure information that will help your target personas to succeed in their careers. To generate leads you can create landing pages with forms on them to collect the personal details of interested prospects in exchange for each content download.
2) Free Webinars
Hosting regular webinars is another great way to generate SaaS leads. For each webinar, think of a topic to cover, and put together a selection of slides you can present and discuss to educate your target personas.
The key thing to remember with your webinars is that they shouldn't be product demonstrations, or sales pitches. A webinar should offer all attendees something they can act on afterwards, for free. For example, if you're selling a call centre management solution to call centre planners, you could discuss techniques for reducing call abandonment rates.
You have to trust that your attendees will make the connection between the advice you give, and your offering. They know you're not a charity, and that you will be selling a solution which ties into the problems you help them to solve.
For best performance, we recommend using GoToWebinar to host your webinars, integrated with HubSpot landing pages to generate leads.
3) Free Tools
In addition to written content and webinars, another great technique SaaS companies use to generate leads is creating free tools your target personas can use to overcome a problem or challenge they have.
For example, if you sell HR software to HR managers at SMB's, you could create a free interview scoring document, which managers can customise with their own questions to help grade job candidates.
A great example of a free tool success story is HubSpot's marketing grader. HubSpot's free tools have been their most successful lead generation technique to date.
After all, you're a SaaS company and you're probably already building tools. What free, simple tools could you make available to add value to your target personas?
4) Partnerships & Integrations
One lead generation opportunity that many SaaS companies overlook is key partnerships and integrations with other SaaS software.
Have a think about all the software your customers could benefit from integrations with. If you've already got a good size customer base, do a survey of existing customers and ask them what they'd like to see your software playing nicely with. Which software appears most frequently?
You can approach the companies that there's synergy with, and discuss the opportunity available. After building the integration, each company involved can then run a marketing campaign to promote it, exposing your brand to new prospects.
Integrations have the added benefit of helping you to close deals with existing leads, too. Would more people buy your marketing automation software if they knew that it integrated with their CRM system? Definitely. Would more people buy your accounting software if it integrated with their invoicing software? Of course. Would more people buy your time tracking software if it integrated with their project management tool? Absolutely.
5) Software Reviews
Last but not least, a lot of SaaS companies don't spend enough time actively encouraging their happy customers to leave reviews. If you delight a customer, it doesn't hurt to point them to somewhere they can publically provide feedback.
SaaS review websites, especially G2 Crowd, are becoming increasingly important to buyers when making purchase decisions. Is your company listed on all the major review websites? Are you amassing reviews? Are you responding to negative ones, to demonstrate that you listen to customer feedback?
Review websites serve as excellent lead generation tools, and when a prospect comes to you after reading a few great reviews, that's more than a step in the door.