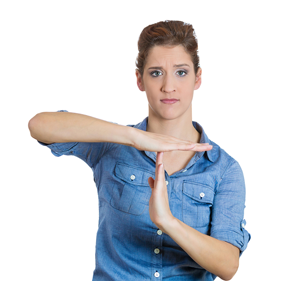 Wait, what?
But you've been telling us we need to create MORE content to generate the leads we need!
Bear with me for a second.
95% of small UK B2B business owners are now implementing some form of content strategy. With ever growing budgets these businesses are increasingly leveraging content across multiple platforms.
While some business owners are equipped to increase their content production efforts, some are damaging their brand by trying to do too much, too soon. With finite time, attention and energy, there's a fine line between effective content and content overload.
Here are 6 signs that you're trying to produce too much B2B content:
1) Your Content Channels Are Becoming Less Effective
It's easy to inadvertently spread your content creation effort over too many channels. You lose focus as you take on more, and the quality of your content suffers as you don't have time to effectively monitor and manage each one. Previously effective channels suffer as you spend more time on new and untested ones. Focus on fewer channels to get the best results.
2) Less Social Media Engagement
If your social media engagement is withering away, it might be a sign that your personas aren't finding your content engaging or relevant. They may feel ignored or they may no longer be using a particular social network. By focusing on fewer channels it'll be easier to notice and diagnose changes in social engagement.
3) You're Overworked and Unhappy
Content takes time. If you're already working round the clock, it's time to do something about it. If you're overworked you'll be less productive and prone to making mistakes. If it's all a bit too much for you, it's a sign that you need to scale down your strategy a bit, or hire some help.
4) Your Employees are Overworked and Unhappy
If your employees are swamped with extra work, their productivity levels will slip and you might have to hire extra staff with funds that would have been spent elsewhere. Similarly, if employees are overworked and unhappy, you'll soon lose your best staff. Talk to your employees and find out if there are ways you can make their job easier. Are certain content activities using a disproportionate amount of their time?
Always remember the Pareto principle: 80% of your results are most likely from 20% of your effort.
5) There's a Drop in Leads
A big indicator that you're producing too much content is a drop in leads. Your target personas will stop converting if you focus purely on content quantity, rather than quality. Focus on producing great content that resonates with your target personas, rather than churning out as much content as possible. Four blog posts that engage your target personas are much better than eight that don't.
6) Negative Feedback
Your visitors and leads won't always vocalise their objections, but if they are, pay attention. For each one that complains, there's probably 10, if not 100 that had a bad experience and didn't. If your emails are being flagged up as spam, it's a sign that you're sending out too many emails, or that they're not targeted enough. If your blog posts are acquiring lots of negative comments, or not getting shared anymore, perhaps they've dropped in quality.
Don't be afraid to ask your customers for feedback on how you're doing.
It's all too easy to spend a disproportionate amount of time on your content. As you increasingly commit, you'll have less time and energy, potentially sacrificing the goals you are trying to achieve in the first place.
If you don't want to scale an effective content team yourself: hire an inbound marketing agency instead, and let them do the hard work. If you're experiencing more than one of these problems, then it's a pressing sign that something's got to give.