Struggling to generate a decent number of customer referrals? Feel like your growth is being throttled by your customer referral program? Don't worry: most SaaS companies are in the same position, and often, it's caused by the same handful of problems.
Today, I'm helping you plug the holes in your customer referral strategy, and overcome nine of the most common customer referral mistakes made by SaaS companies.
1) Not Specifying the Type of Referral You Want
You don't want your enterprise accounting tool recommended to small businesses or sales teams, so why leave your referral to chance?
You know the type of people that would benefit from your solution, so be specific about the type of referral you want. Ask your customers whether they know any finance directors that would love your tool, or suggest they share it with their finance team - the more specific, the better:
It's easier for your would-be referrer to identify the right type of person to reach out to.
Your referral is more likely to be accepted and acted on.
2) Making Your REFERRAL PROGRAM Hard to Find
People won't go searching aroound your website or app to find your customer referral program, so it needs to be super easy to find.
Treat it the same way you would any other call-to-action: embedding it in a high-profile part of your website, and using stand-out colours and attractive copy to highlight the reward you're offering.
3) CREATING A HIGH FRICTION REFERRAL PROCESS
The more complex your referral process, the lower your chances of someone successfully completing it. Once someone has found your customer referral program, it should require as little time and energy to complete as posible.
So what does a high-friction process look like?
It requires more than a couple of steps to send the referral.
It forces referrers to write-out a message to each person they want to refer (instead, pre-populate with a suggested message).
It takes people away from the app or page to make the referral.
4) Asking at the Wrong Time
Timing is everything, so make sure you're monitoring your customer's desired outcomes and success milestone. When they've had a positive experience with your solution, hit them with the referral request (and remember: your customer's success milestone aren't the same as yours).
5) Offering No Incentive
A handful of customers may love your company enough to freely evangelise it to their friends, but for the rest of the world, it's important to offer some kind of referral incentive.
A successful referral is worth a lot to your business, and it takes time and energy to make a referral, so it's important to offer something valuable in the way of compensation for their help.
6) Offering a Lame Incentive
In some cases, a bad incentive can be a worse than no incentive, as you're effectively saying "We value your help, but only this much."
Instead of offering a paltry 50MB of bonus storage or a $10 saving, offer an incentive that your customers will genuinely benefit from. If you're attracting the right type of people through your customer referral program (see step #1), you'll be able to justify the expense.
For an example of a great reward, check out PayPal. In their infancy, they offered the ultimate referral incentive: cold, hard cash, allowing referrers to earn a portion of the revenue generated by the business they referred.

7) Only Rewarding the Referrer
There are two halves to a successful referral: encouraging someone to make the referral, and encouraging someone else to accept it. Traditional referral programs only reward the referrer, so double your chances of success amd opt for a double-sided reward strategy.
This is the approach DropBox took: offering extra storage to anyone who made or accepted a referral.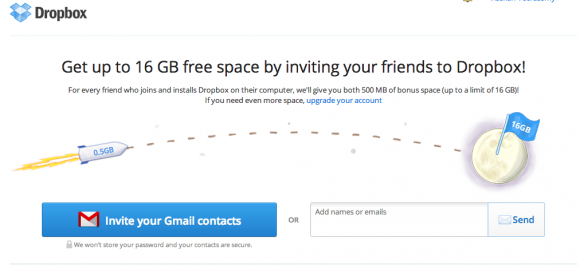 8) LIMITING REFERRALS TO CUSTOMERS
Most referral programs are limited to existing customers, but why stop there? There might be a portion of your visitors that don't have the budget for your solution, but know others that do. Others might not be ready to buy, or might think that somebody else in their organisation would get more benefit from your solution.
If you offer an incentive that isn't restricted to customers (like a voucher or a free resource), you can encourage these types of referrals - and in most cases, opening up your referral program incurs little-to-nothing in the way of added cost.
9) Only Asking Once
Some customers won't want to refer you, but others might not know the right people to contact, or might simply forget. In these instances, it can be worth offering a subtle nudge, and asking them (again) for a referral.
Better yet, if your customer has made a successful referral in the past, reach out again. After all, they have a track record of making successful referrals - and if they can be incentivised to do the same again, you'll stand a great chance at connecting with another new customer.