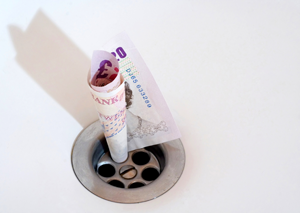 When we speak to business owners, directors and CEO's it's not too uncommon for them to have many a negative word about marketing, or their marketing departments. Many do not fully understand the results their marketing efforts deliver, and grow increasingly frustrated by poor performance.
Do you fall into this category? Do you think your company could be throwing away its marketing budget? Start asking yourself or your marketing team these questions, and find out.
Do we have SMART marketing goals that are aligned with our business goals?
SMART (specific, measurable, actionable, realistic and time constrained) marketing goals are vital for the success of your company's marketing efforts. Poor marketing goals deliver poor results. It's also important that your marketing goals are set with your business goals in mind. There's no point in saying "we need to get 1 million facebook fans" if you can't tie that goal into your business goals. If you are trying to increase sales by 20%, make sure that your marketing goals are set to achieve this. This means understanding things like your average sale value, the percentage of website visitors that become leads, the value of each social media follower your acquire, the percentage of leads that become sales and so forth.
Does marketing have a clear understanding of who our customers are, and what their problems are?
It's not uncommon for marketing teams to be blissfully unaware of the real problems their customers face and who they actually are, beyond vague demographic information. Spend some time developing buyer personas -- I explain how in this post. More often than not it's a company's sales team that truly understands who your customers are and what they want or need -- after all, they talk to them everyday. So involve your sales team when you develop your marketing strategy, especially when it comes to defining buyer personas. The more your marketing team know about the individuals your company caters for, the better they'll be able to create material that resonates with them.
Are we able to measure the return on investment of our marketing?
If not, why not? What's missing from the picture? Usually this implies that there is a breakdown in communication or tracking somewhere along the line. Does your CRM system know the source of each lead? Does your sales team appropriately mark leads as they are progressed, and eventually closed? Are you marking the value of each sale when a sale is closed? Do you even have a CRM system? You need to be able to see a full picture of your business, and understand which marketing efforts result in sales.
Are we focusing on attracting prospects, rather than interrupting them?
The buyer journey has changed a lot in the last 5-10 years, and it's evolving faster than ever before. Back in the day, you'd see an advert for a product/service that solved a problem you had and give the company a call. The sales rep you spoke to fully controlled the information you were given, and was responsible for educating you. They provided you with sales brochures and other content, and you came to a decision.
Now, people wait a lot longer to talk to sales. Recent research suggests anywhere from 57% to 70% of the sales process is complete before a buyer even attempts to engage a sales rep. What's driving this development? The ability for people to self educate. Thanks to search engines and social media, buyers can do more independent research now than ever before. By the time someone is willing to speak to your sales team, they are already well informed.
It's therefore vitally important that your company is engaged in producing educational content that can be found when your buyers go searching. Attracting your prospects by helping them to solve problems with great content. People grow tired of all the adverts, cold calls and advertising material they see everyday. They're increasingly ignoring it, and with changing buyer behaviour it's just not the best way to reach people anymore.
Are we generating leads which are well received by sales?
One big problem sales teams typically have with marketing departments are the quality of the leads they receive from them. It's not uncommon to hear salespeople say things like "I do my own prospecting, because the leads marketing supply me with are garbage". It's therefore important to make sure that your marketing efforts aren't just generating useless leads that convert poorly. Monitor the quality of the leads your marketing team generate, and if they're not up to scratch, try to find out why. The chances are your marketing isn't targeted enough.
Are sales and marketing tightly integrated?
It's important that your sales and marketing teams are closely aligned and integrated. Sales needs to know as much information as possible about a lead from marketing. Did the prospect make a specific Google search? Download a guide? Repeatedly visit one page of your website? Share one of your blog posts with their social media followers? All of this information helps sales teams to build rapport with prospects and dial in on the problems and challenges your prospects have faster, increasing win rates.
Likewise, marketing needs to know from sales which of the leads they sent closed, and the sales revenue generated by those leads. If marketing doesn't know which leads convert, how can they be expected to improve their lead generation efforts? If all the marketing team can see is which channels generate the most leads, they'll be optimising to solve the wrong problem: focusing on the quantity of leads rather than the value of them.
So what did you score? If you answered yes to most of the questions above, you're well on target. If there were lots of no's, then something needs to be done, because the chances are you're wasting a significant proportion of your marketing spend. A well developed inbound marketing strategy can change all of those no's into a yes, and ensure your marketing spend delivers the return on investment it should be during the year ahead.