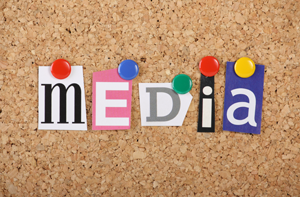 Paid, owned and earned media assets are a crucial part of any marketing campaign; but in an increasingly integrated world, it isn't enough to have separate strategies for each.
Today, I'm taking a look at the next iteration of paid, owned and earned: converged media strategy.
The Problem with Paid, Owned and Earned Media
Traditional paid, owned and earned media campaigns have reached a tipping-point. Their siloed structure has served them well in the past, but in a world where standalone tactics are being superseded by integrated marketing strategies, they're starting to feel old-fashioned and ineffective.
The problem isn't with media itself - it's with how people engage with media. In an increasingly online, connected and distracting world, no single channel is capable of soliciting enough of an audience's time and attention to effectively communicate a marketing message.
The boundaries between paid, owned and earned media are increasingly blurred. Media is almost never engaged with in isolation, and most marketing channels now employ a mixture of all three types. For an example of this in action, spend a few minutes browsing one of your social media accounts. You'll come across all three types of media within the first few seconds:
Paid PPC adverts and promoted posts.
Owned blog content, promoted through owned social media accounts.
Earned reviews, testimonials and social shares.
Within a single marketing channel, your audience are engaging with, and being influenced by, three distinct media strategies. Presenting a cohesive brand message is a crucial component of earning consumer trust, and encouraging engagement - but how can we achieve that with separate media strategies?
"The average person sees some 3,000 brand impressions every day.
The media and information they consume might originate in traditional media, social media, advertising, or — with increasing frequency — a hybrid of all three.
Consumers rarely pause to note provenance. Media are a veritable blur. The primary quest is for information, entertainment, or shopping.
The goal is simply to find the "right" media, be it paid, owned or earned, along this highly dynamic customer journey." - The Converged Media Imperative
Making the Move to a Converged Media Strategy
Given that media engagement is shifting towards a more unified model, it makes sense that our own media marketing strategies need to change. Our paid, owned and earned media needs to be treated as a single entity.
This is our converged media strategy - the simultaneous deployment of two or more paid, owned and earned assets, to present a consistent and cohesive brand message.
Converged media is a reflection of the changing nature of the customer journey, allowing businesses to reach customers irrespective of their chosen channel, medium or device. With advertising, email, content and social media accessed online and offline, across PCs, laptops, tablets and phones, converged media is the only way to reach customers on their preferred terms.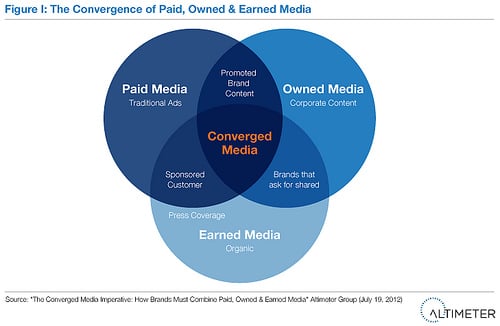 Examples of Converged Media Strategies
Paid and Owned: the promotion of branded content can be amplified with paid advertising, using a PPC campaign to drive traffic to a guide or whitepaper. We've also covered this specific combination before: How Paid Media Can Help Your B2B Inbound Marketing Effort.
Owned and Earned: owned websites and social media channels can benefit from improved social proof by integrating earned media into their design. Brands can use social media to generate feedback, reviews and user-created images and videos.
Earned and Paid: paid advertising and promotions can be used to incentivise the creation of earned media.
Paid, Owned and Earned: the ultimate end-goal of converged media is to create a strategy that combines all media types together in a unified and complementary way. Thankfully, this doesn't have to be complicated. To get started with converged media, try using a social media PPC campaign (paid) to promote customer testimonials (earned) that advocate a branded whitepaper (owned).
Paid, owned and earned media assets are still a valuable tool in any B2B marketer's arsenal. A converged media strategy isn't an attempt to replace your current assets, or completely rewrite your approach to media marketing. Just like inbound marketing, it's a strategy for getting the most out of your marketing efforts in an increasingly connected, competitive and convergent environment.