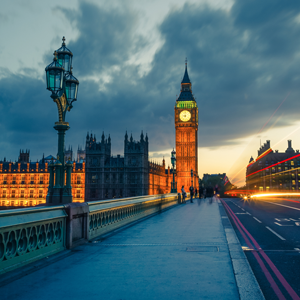 Inbound marketing has taken off in the US in a really big way.
There's thousands of companies adopting and using the inbound marketing methodology to grow.
What's the situation in the UK though? Does it work just as well? Or are we a bit behind our US counterparts?
The US is More Competitive
HubSpot originally marketed itself in the US, selling only to US companies. Founded back in 2006, it wasn't until September 2012 that HubSpot opened its European office in Ireland, and made a serious effort to begin promoting the inbound methodology in the UK.
Since then, there's been a lot of initial traction, but the US has had many more years to learn about the methodology, see its effectiveness and experiment. This has resulted in a more competitive environment in the US. Some inbound marketers are even getting worried that so much content is being produced that inbound marketing will become less effective.
Fortunately, we're a long way away from that point even in the US. For example, only 3% of US non-tech companies currently use marketing automation. That shows there's a long way to go even on the other side of the pond, and highlights how companies can gain an edge on their competitors even with a basic use of inbound marketing software.
This Means Opportunity in The UK
We've seen great results from using inbound marketing in the US, to such an extent that companies are scrambling to get on board. We have lots of great case studies and examples of exactly what's worked, and not worked in the US. Smart UK companies and marketing agencies are learning from this.
B2B buyers in the UK are using search engines, blogs, whitepapers, brochures, infographics, video, email and social media during the buying process just like their US counterparts. Yet so many UK companies have websites which are glorified sales brochures, without any of the helpful content their potential buyers are really looking for.
This has created a huge opportunity for UK companies to be early adopters. It's a chance to get ahead of the curve with inbound marketing, and beat your competitors to the post. We've seen lots of success in numerous industries, where many of our customers are one of the first in the UK to develop a comprehensive inbound marketing strategy -- and it pays off.
Even as a marketing agency, competing in the most competitive area of inbound marketing, we've generated month-on-month success. For example, from September 2013 to June 2014, we increased our organic search traffic by 679%. Just imagine what can be achieved in industries without so much UK content competition: Technology companies. Manufacturers. Professional service organisations. Health care companies.
So what are you waiting for? If you wait until your competitors are doing inbound marketing, you'll have lost a real opportunity to get ahead of the curve and utilise this effective source of new business when the return on investment is at its highest. Results in the UK are excellent, and it's up to you whether you join the party early, or risk losing market share to your more forward-thinking competitors.