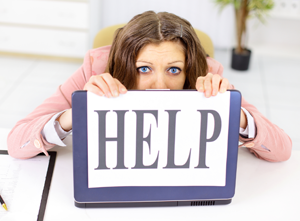 So you need content for your marketing strategy.
Lots of it, too.
Whether it's a few blog posts a week, an eGuide each month, daily social media updates or the occasional infographic -- you've realised that it's hard to consistently produce great content that simultaneously engages your buyer personas, gets shared on social media, generates leads and ranks highly in search results.
You've decided a B2B content marketing agency could be just what you need, but you're not sure who to work with. Check out these 5 tips for avoiding the wrong agencies, and you'll be well on your way to finding the perfect fit.
1) Understand Your Requirements
Before you speak to an agency, try to understand your requirements as best possible. Are you looking for an agency to completely manage your content marketing? Or are you just looking for specific pieces of content? Different agencies cater for different types of clients, and work.
It may be that after talking to a great agency that you realise your requirements weren't quite right, but the more you understand going into the conversation, the more likely you'll be to find a good fit.
2) Watch Out For SEO Agency Converts
Lots of SEO (search engine optimisation) agencies are rebranding themselves as content marketing agencies. This doesn't mean that they're bad, just that you need to be careful. When you're talking to an agency, listen to what they focus on. If they only talk about content from an SEO perspective, this is a warning sign that the agency in question doesn't understand content marketing from a broader perspective.
As part of this consideration, it's also worth taking a look at the agency's own content marketing. Are they producing great blog posts which are more than just optimised for SEO? Do they write eGuides and longer form content? If they're not doing a great job of their own content marketing, can you trust them to do yours?
3) Assess Industry Expertise
If you run a business process optimisation consultancy, and your client has only ever produced B2C content that sells weight loss supplements, this could be a problem. Get an understanding of the agency and the types of content it has produced.
Generally speaking, you don't need an agency that has specific expertise in your industry. Great B2B content marketing agencies will be keen to educate themselves and interview expert(s) on your team, extract their knowledge and turn it into compelling content that helps you to achieve your business goals.
4) Ask for References
Can the agency provide you with some past client(s) you can speak with? If not, this is a warning sign that the agency is either new to content marketing, or doesn't do a great job. A new agency may still be well setup to meet your needs, however, so don't dismiss them immediately. If you get on really well with the team, and you can see they excel at their own content marketing, it could still be a good fit.
5) Look for The Right Questions
When you're speaking to a content marketing agency, pay very careful attention to the types of questions they ask you. Do they just accept everything you say, and provide a quote to do it? Or are they thoughtfully asking questions to learn more about your business and its goals?
The best content marketing agencies will want to learn as much as they can about your business, and will never stop trying to learn more and better understand exactly what it is you do, and who you are trying to engage with. If an agency isn't talking about broader strategy, and just sends over a quote for a few blog posts, or an eGuide, then you're probably not talking to the right people.
Choosing a great B2B content marketing agency isn't always easy, but hopefully these tips will give you an idea of some of the things you need to watch out for. If you want more information on hiring an agency that's a good fit for your business, you may want to take a look at our free eGuide by filling the form below.