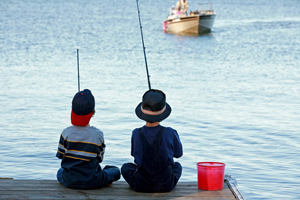 Are you wondering how your business is going to generate the sales leads it needs going into 2014? Perhaps you have aggressive growth goals, and are unsure how to best invest your marketing budget to achieve them? In today's post I explain how you can get off to a flying start in 2014, and generate the sales leads you need to grow.
1. Start Thinking About It Today
Don't wait until January to work out what you are going to do. Start thinking about your lead generation strategy for next year, today. Do you need to redesign your website? Revive the dusty blog? Develop a marketing plan?
As the old adage goes, failing to plan, is planning to fail. The earlier you start thinking about how you are going to achieve your targets in 2014, the higher your chances of achieving them.
2. Take A Look At What's Working This Year
Go through your data for 2013. That means going through the CRM system, any business/website analytics packages you are using, making sure your accounts are up-to-date and getting to the bottom of what did/didn't work. If you're not sure which of your marketing methods generated great leads for you in 2013, then look into ways to make sure you can collect and visualise that data next year. HubSpot is a great platform for measuring the ROI of the various digital marketing methods you utilise, for example.
Consider moving your budget around to scale back ineffective marketing methods, and put more money into channels that are particularly effective. If your marketing has really disappointed this year, then maybe it might be time to shake things up in a bigger way. Perhaps you need to ditch the telemarketing, for example.
3. Hire Someone To Take Charge Of Your Marketing
If you don't already have a marketing manager/director, or a partner agency that is dedicated to working on your company's marketing, it could be a great investment for the new year. As a business owner, your time is stretched, and it's often marketing that gets neglected when you get busy. Your client's report has to be sent out today. Payroll needs to be handled tomorrow. A new supplier for that part you need has to be found yesterday. When you don't have an individual directly responsible for your marketing efforts, it often gets neglected. If your marketing is neglected, you almost certainly won't reach your goals next year.
4. Escape The Campaign Mentality
Stop thinking about your company's marketing in terms of campaigns. Your marketing strategy needs to involve consistent activity, or you will end up having unpredictably busy and quiet periods, which make forecasting and scalable growth a huge challenge. Lots of modern B2B marketing methods require month-to-month consistency to be successful (think social media and blogging, for example).
Try to think of ways you can market your business steadily and consistently. This post gives you a few ideas for things your business can do consistently month-to-month: 5 B2B Lead Generation Techniques That Actually Work.
If you implement the above selection of tips, I can almost guarantee you will be more successful in your lead generation efforts during the year ahead. So what are you going to do today to make sure that the next year is a successful one?