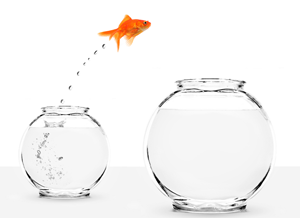 So you've been regularly blogging for a while now, and are starting to drive significant amounts of traffic.
Whilst it's tempting to just keep plowing ahead with more and more posts, many marketers miss a few tricks. There's a lot you can do to improve the performance of your existing blog content, and in today's post I explain 4 ways you can supercharge your results.
Just a few tweaks and modifications could vastly improve conversion rates, and help you not just to drive the traffic you need, but more leads, too.
Replace Call-To-Action's
How long have you been using the same old call-to-action (CTA) in your blog posts, without testing new ones? Worse still, are you not using CTA's at all? A CTA is quite simply an image or button at the end of your post that encourages a visitor to take another action. That action could be subscribing to your blog, downloading an eGuide or just a link to other recommended content.
The best marketers regularly test their CTA's as they attract traffic, in order to work out which offers perform best for which types of post, and how to squeeze the most leads out of each blog post they create.
Continually Promote
Once a post is published, don't just promote it once. Go through your old posts and regularly re-share them via social and other channels. Watch out for posts that perform particularly well, and continually re-share these over time.
Relevant blog posts are always going to be useful to your followers, and many will appreciate being reminded of an excellent post you wrote months (or even years ago). A large number of people will have missed you sharing it the first time around, too.
Revamp the Content
Content doesn't stay relevant forever. Whilst some advice may be timeless, the majority of what you post can do with a revamp every now-and-then. Once a month, sit down and look at the posts you wrote in the same month a year ago.
Could any of them do with a refresh? You might want to consider sourcing new statistics, or tailoring any recommendations you made. A lot can change in a year, especially in technology industries.
Update Offers
Once a year, go through and do a content audit. Are there topics that you've written a large number of posts around, that don't have a relevant premium content offer (e.g. eGuide/checklist/whitepaper)?
For example, we could do an audit of our blog content and realise that we've written a lot of blog posts around search engine optimisation, but have no eGuide on that topic. If those posts are driving significant amounts of traffic, creating an eGuide on search engine optimisation and an appropriate call-to-action promoting it could vastly increase the number of leads those posts generate.
As your blog begins to drive thousands of visits per month to your website, this strategy can pay dividends and massively improve your inbound marketing ROI.