Choosing between HubSpot CMS and Wordpress isn't immediately obvious for SaaS companies.
HubSpot give a great pitch, but is the software all it's stacked up to be?
In today's post I draw on the experience of myself and Cobloom to make as objective a comparison as possible, and let you decide what's best for your business.
Last updated in June 2023
What are HubSpot and Wordpress?
HubSpot
HubSpot is an all-in-one marketing automation platform, which has tools spanning Sales, Marketing & Customer Success. HubSpot's CMS was launched in 2013, and initially referred to as a Content Optimisation System. It was an effort to make it clear they weren't just building a CMS, but a tool that could be used to do a lot more than standard Content Management Systems.
It's used by hundreds of SaaS companies to implement marketing websites.
At Cobloom we've used HubSpot as our CMS for nearly a decade, and implemented it on behalf of SaaS companies.
Wordpress
Wordpress is the world's most popular content management system, initially rising to fame as a blogging tool. It's open source, and has always been available for free. Wordpress put flexibility at the centre of their positioning, and there's a broad ecosystem of themes & plugins available to users. It's easy enough for someone who has hosted websites before to download wordpress, install it within a web hosting account and have a basic website/blog up-and-running in minutes.
Like HubSpot, it's used by hundreds of SaaS companies to host their marketing website.
In Cobloom's early days (before we re-branded from Iconsive), we used Wordpress as our main CMS. We've used Wordpress in combination with HubSpot's marketing platform, as well as on its own. Over the years I've also personally built many Wordpress websites.
What's Right for Your SaaS Company?
Summary (TL;DR)
For SaaS companies, HubSpot CMS is better from a marketing, IT and security perspective.
A lot of what you can do with HubSpot CMS can be done with Wordpress if you install enough plugins, but each plugin you install introduces additional maintenance, complexity and security risks.
Once you've installed all the plugins and paid for secure & reliable web hosting, you may find that Wordpress carries a greater cost than you expect.
Early stage SaaS start-ups often have a tougher decision to make than established companies once they learn everything they can do with HubSpot CMS.
The CMS you choose for your marketing website is a very important decision which may impact on areas you didn't expect.
Blogging
HubSpot
All of HubSpot's CMS packages from its free tools to Enterprise edition include a blog. Free and Starter users can create 1 blog, whereas Professional and above allow you to create up to 100 (... not that SaaS companies would ever need that many!)
The blog editor is intuitive and easy to use, featuring a "What You See is What You Get" (WYSIWYG) editor which allows you to edit the blog post and simultaneously see what it will look like published on your website: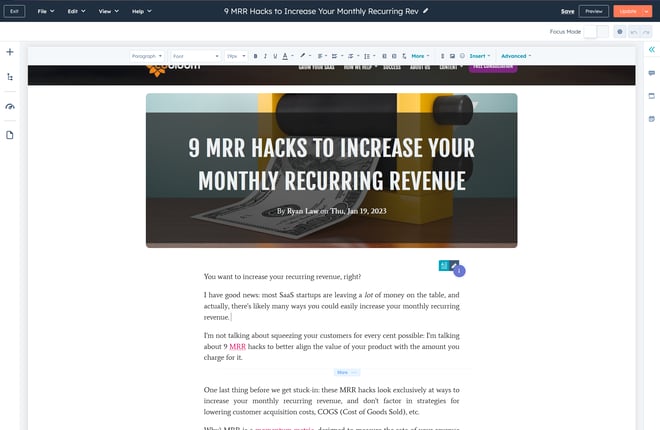 In the top-right you'll also notice there's a button to turn on "focus-mode", which allows you to write without the distraction of seeing other parts of your website, if you find it easier to write that way: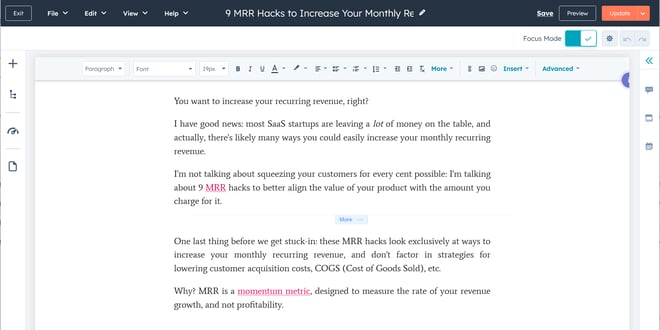 HubSpot allows you to put your blog on either a subdomain or subdirectory of your website. It's worth noting however that you can only use a subdirectory if your main marketing website is also hosted on the HubSpot CMS. A subdirectory tends to be better for SEO, which is why we chose to use it for Cobloom.
We have two blogs within our HubSpot instance, each in its own subdirectory: our SaaS growth blog, and a blog focused on career development & self-improvement.
Wordpress
Wordpress also includes a blog out-of-the-box. Each Wordpress instance you install can be used to host a single blog, but if you need multiple blogs you'll need to install multiple instances.
Like HubSpot, it includes an easy-to-use editor. It's not WYSIWYG in the same way as HubSpot's, but easy enough to preview what the blog post will look like on your website at any point by clicking the preview link in the top right corner: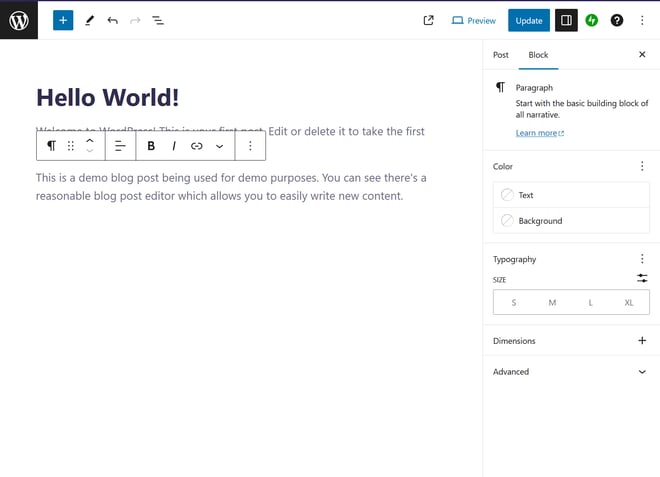 Your Wordpress blog can be installed in any subdirectory or subdomain you like.
Our Verdict for SaaS Companies
Both HubSpot and Wordpress will meet a SaaS company's blogging needs similarly well, so long as they only require a single blog. The main thing to note is that if you require multiple blogs and choose Wordpress, you'll need to use multiple instances. This adds complexity and carries associated security/update related risks I touch on later.
Search Engine Optimisation
HubSpot
HubSpot's free tools and starter package ($23 per month) can help you optimise your website with basic SEO recommendations: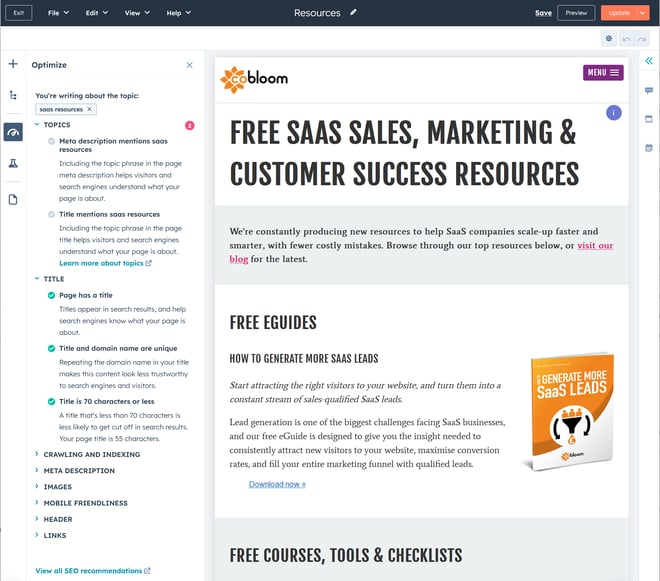 However, to get advanced SEO advice requires CMS Hub Professional ($360 per month). The SEO advice it provides is prioritised, detailed and highly actionable.
Our website is reasonably well optimised, yet as you can see from the example below (taken from our CMS Hub Professional instance), it still surfaces many SEO recommendations we can work through to make further improvements each time we run a scan: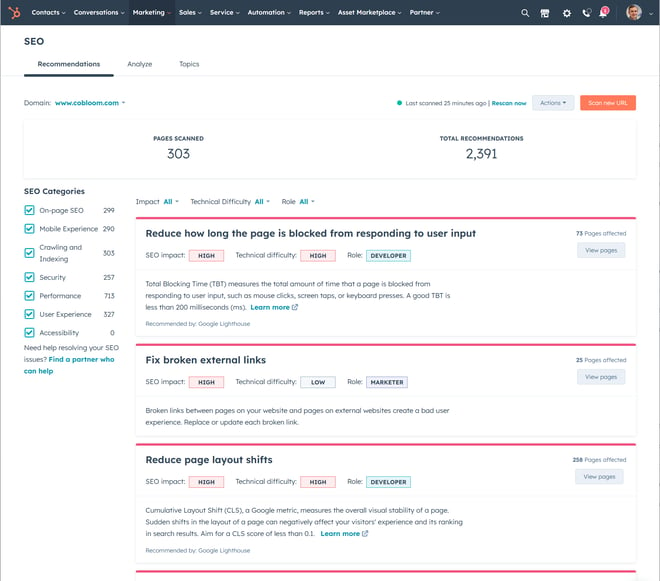 The CMS platform itself is built with SEO in mind, and HubSpot makes it easier for developers to build well optimised websites from the start.
Wordpress
Wordpress by default doesn't include SEO tools, but they can be installed easily enough using plugins like Yoast SEO (the most popular Wordpress SEO plugin). Yoast SEO is available for $99 USD per year.
The SEO advice it provides isn't to the same depth as HubSpot's, but if followed will help you to achieve higher search rankings: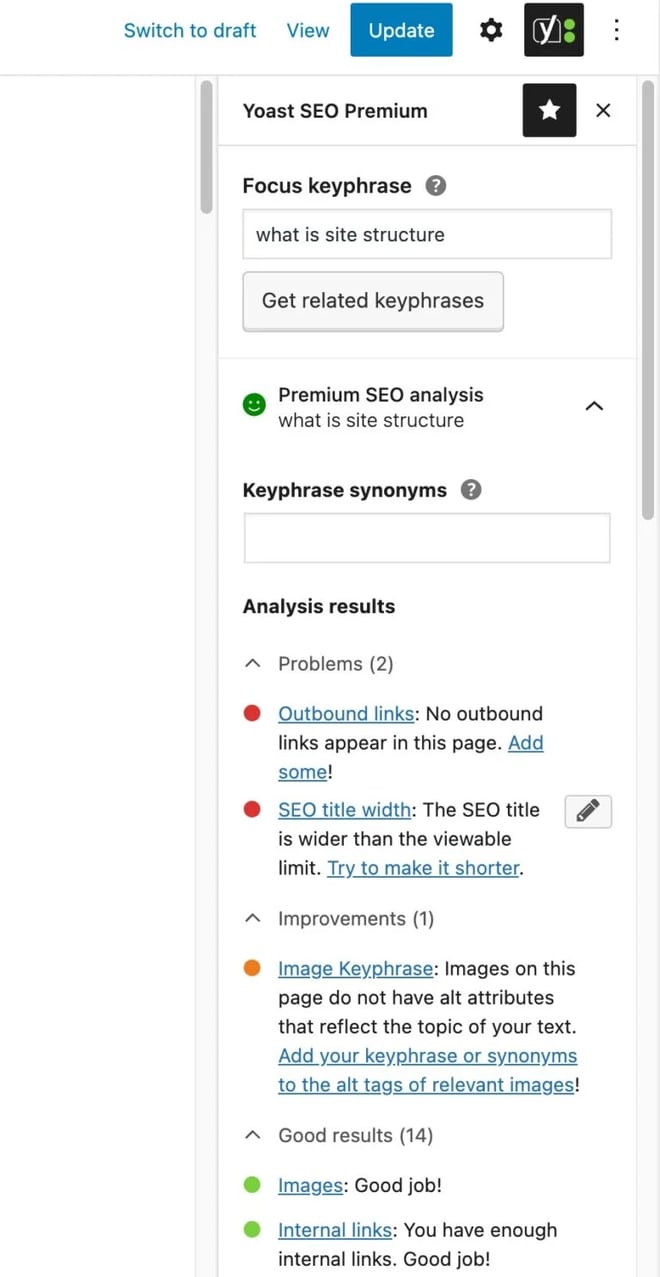 Wordpress is reasonably well optimised for SEO out of the box, and plugins like Yoast SEO provide you with a solid base for your website.
Our Verdict for SaaS Companies
HubSpot's CMS Hub Professional provides the best overall SEO tools, something which is important for SaaS companies which know that each ranking position within their targeted keywords counts. A website which ranks #2 for a target keyword moving to rank #1 will attract ~75% more clicks than it did before.
SaaS companies which follow the SEO advice CMS Hub Professional provides will usually find that the return on investment it offers will cover the higher cost, assuming they are targeting appropriate keywords.
While Wordpress will allow you to get started with SEO for a very low cost, you'll probably find that before long you want to integrate an additional third-party SEO platform like Semrush (starts at $119 per month).
Landing Pages & Forms
HubSpot
All versions of HubSpot CMS include landing pages & forms which you can use to convert anonymous website visitors into known contacts. Most SaaS companies will find they can build attractive and effective landing pages which convert at a high rate with the CMS Hub Starter package.
CMS Hub Professional unlocks functionality like A/B testing, something which becomes valuable for squeezing extra percentage points out of your conversion rates if your landing pages receive larger amounts of traffic.
Here's an example of the landing page editor in action, featuring a WYSIWYG editor similar to the blog tool: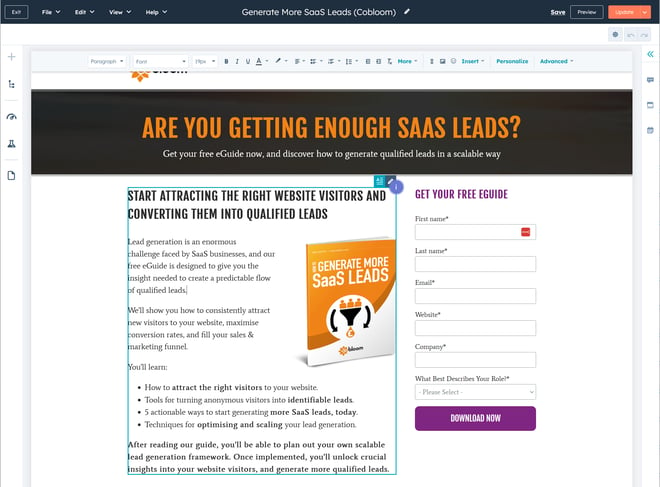 In addition to being able to update all of the landing page content (plus title and metadata), you can also customise the configuration of your form using a simple editor, visible here on the left side of the screen: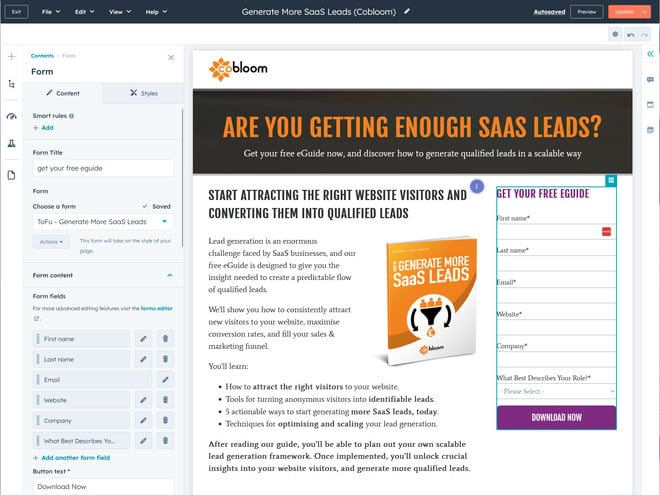 You can create landing page templates using the design manager, which we explore in further detail within the next section.
Wordpress
Wordpress doesn't include a landing page & forms editor out of the box, so in order to implement landing pages you'll need to use a third party plugin or have a developer build them for you. In order to get a landing page editor which is somewhat comparable to HubSpot's CMS Hub Starter, you'll want to use a tool like SeedProd, which is ~$200 per year for the package you'd need: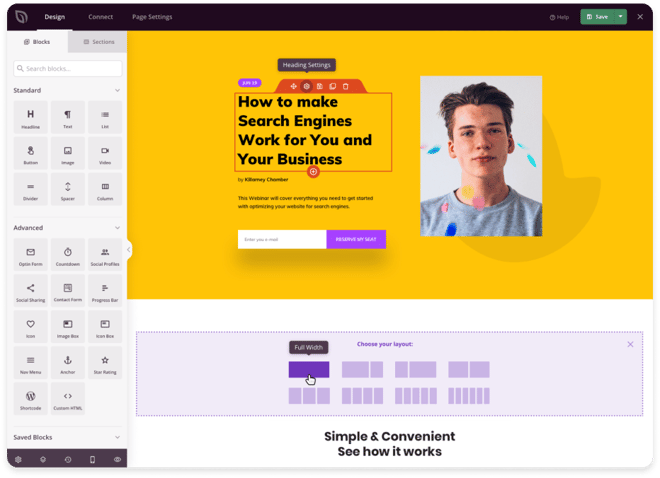 Other popular plugins people use to build landing pages include:
WPForms (starts at $49 per year for basic forms, you'll probably need a developer to build your landing pages)
Unbounce (starts at $99 per month for up to 20,000 visitors per month, and includes the more advanced marketing features that you can find in CMS Hub Professional, especially in its Optimise & Accelerate packages)
Something to be aware of with all these tools is that depending on how they're integrated you may negatively impact your SEO. The problem with using a tool outside your CMS like SeedProd or Unbounce is that you have to host your landing pages on a subdomain, which Google has a tendency to treat like separate websites.
Our Verdict for SaaS Companies
Most SaaS companies will find that HubSpot is an easier solution for their landing pages & forms than Wordpress is. Landing pages aren't natively available within Wordpress, and to get the functionality you need will require additional plugins or a web developer's support whenever you (or your marketing team) want to create a new landing page.
A common theme you'll notice throughout this comparison is that a lot of what HubSpot does is possible to do with Wordpress. The problem is that the more plugins you have to install to get the functionality you need, the more complex your setup becomes to manage, and the more security challenges you face.
Website Design
HubSpot
HubSpot CMS has a centralised design manager which you can use to edit your webpage, blog, and landing page templates. You can choose whether you create your page templates using their drag-and-drop editor (not WYSIWYG in this case, for reasons of flexibility):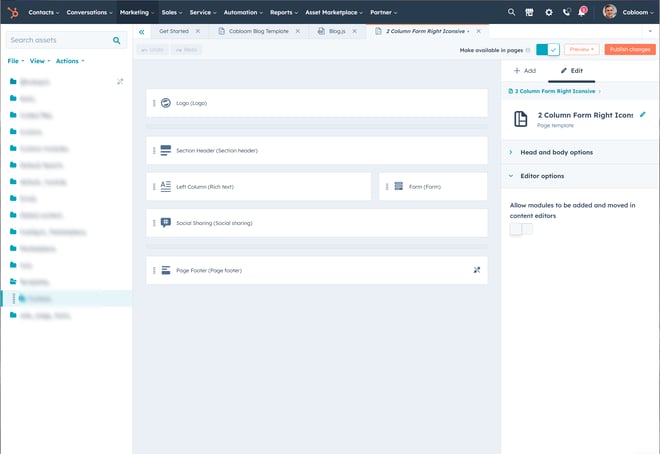 Or code editor, for those of you with web development experience or a developer who will support your marketing: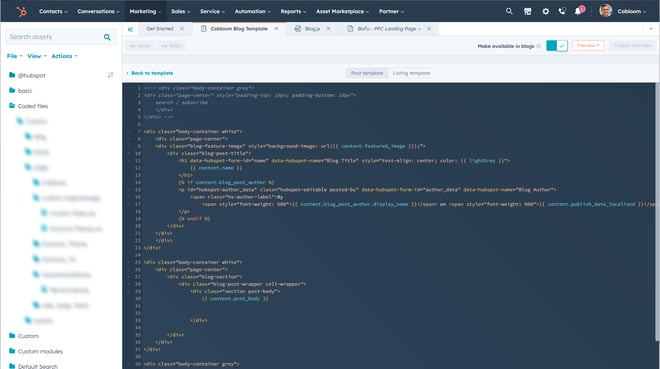 HubSpot have their own templating language called HubL which you can see used in the coded template above within the double braces. The templating language is easy for any experienced web developer to learn, as it's very intuitive to follow.
HubL makes it easy for developers to embed dynamic content into your templates, as well as create themes which span multiple templates while keeping code clean.
When creating pages you're not limited to just using the code or drag-and-drop editor for any particular template either. You can use a mixture, making it easy for marketers which aren't developers themselves to insert coded blocks into their pages, which many SaaS companies will find useful.
HubSpot has a vast array of theming, templating and web development tools which are impressive in their ability to combine ease-of-use for those without web development experience, with power tools for experienced developers who want to build the most complex websites.
If you're a web developer, or have a web developer on your team, we highly recommend browsing the Design Manager docs to get a full sense of just how customisable HubSpot is from a design/development perspective.
If you want to browse an example of a SaaS website built entirely on the HubSpot CMS, take a look at swipedon.
Wordpress
Wordpress has a drag-and-drop WYSIWYG tool you can use to construct page templates, which it calls the block editor. It's very similar in functionality to HubSpot's drag-and-drop editor. You can see a demo example we've put together here: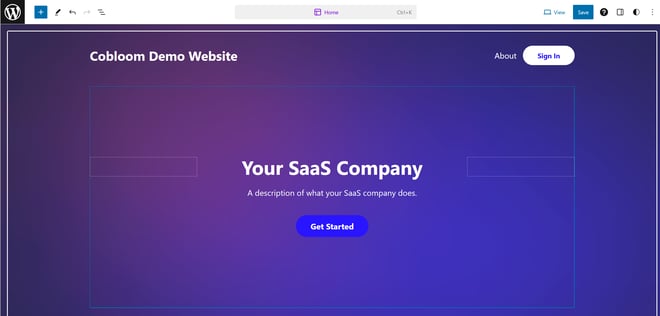 Wordpress includes a number of templates out-of-the-box, and one of Wordpress' major strengths is the sheer quantity of templates available via theme websites like envatomarket.
If you're happy to use a pre-designed template for your SaaS company website, Wordpress is a really fast way to get a website online, and it has more templates available out-of-the-box than HubSpot does. The only issue with using third party themes and templates is that other companies will likely already be using anything you choose, which has the potential to weaken your brand if your customers learn about it.
Much like with HubSpot, it's also possible for a web developer to update your theme and template code directly, providing you with the same flexibility you can get from HubSpot.
Most web developers connect to their Wordpress instance via FTP or similar in order to directly edit files from their local development environment.
Wordpress doesn't have a templating language like HubSpot does, but your web developer can implement a templating engine using PHP, or directly modify PHP code itself to achieve what you can with HubL (albeit in a more complicated way) where needed.
Our Verdict for SaaS Companies
Both the HubSpot CMS and Wordpress can be used to build a beautiful, high-performing marketing website for your SaaS company. HubSpot CMS and Wordpress compartmentalises all your code and template building blocks, making it possible for people who don't have web development experience to create or edit templates and pages without having to use a web developer.
HubSpot and Wordpress each have a supply of templates available out-of-the-box you can use to deploy a website quickly with, but Wordpress overall has the wider selection due to its huge ecosystem of template builders. Most SaaS companies will heavily modify a basic framework template or design from the ground up to build a strong brand and marketing website, and either platform can be used to do this.
In our experience, most web developers and marketers prefer working with HubSpot over Wordpress once they've used it for themselves for a while.
Smart Content and Personalisation
HubSpot
HubSpot CMS includes smart content and personalisation functionality in HubSpot CMS Professional and above. What is smart content? It's content on your webpages governed by "smart rules". It allows you to display different content to a visitor based on data like their geographic area, ad source (UTM parameters), device type, preferred language and more.
For known contacts that have already filled a form on your website, HubSpot even allows you to tailor website content for them based on any of their contact attributes. For example, you could update the content on your free trial page to show one thing to a sales representative, but something entirely different to a VP of Sales, due to their differing interests and requirements.
Here's an example of us adding some smart content to our "SaaS Resources" page, which changes the content block based on whether they've previously shown an interest in one of our in-person SaaS pricing workshops or not: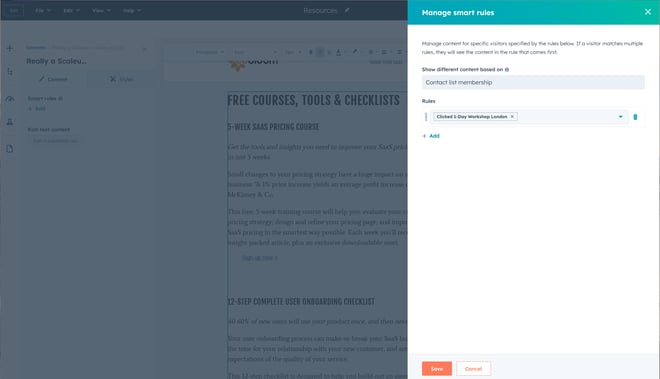 In addition to smart rules, you can also personalise the content of pages using personalisation tokens (attributes stored against contacts in your database).
On the "SaaS Resources" page we might do this to replace where we've hard-worded SaaS, so that if a known contact in the manufacturing industry viewed the page, they'd see "manufacturing businesses" instead. You can then set a default attribute to display when the attribute isn't known, such as "businesses like yours":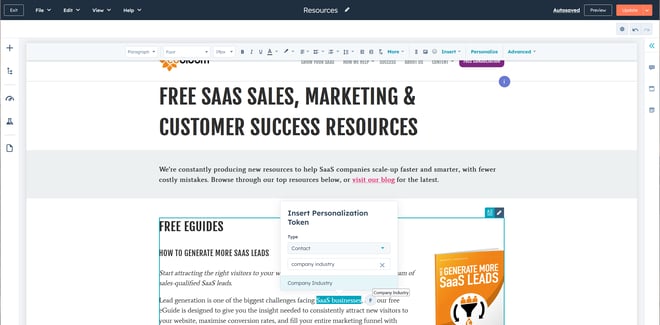 It's possible to use smart content and content personalisation on website pages and landing pages, but not blog posts. As a business you have to be careful about how you use smart content and personalisation, as if you go too far you'll be liable to alienate visitors. (You might now wonder how much we personalise our content, for example! We use the feature sparingly, as you can test for yourself if you try filling in one of our forms, such as our free lead generation eGuide -- you can opt out any time)
When used correctly, smart content and personalisation makes the overall experience of your website better for the visitor, helping them to get useful information from your website as fast as possible.
Wordpress
Wordpress doesn't include smart content or content personalisation by default. In order to implement equivalent functionality, you'd need a tool which dynamically adjusts your content with javascript, which can be worse for SEO. There are tools available which will do some of this for you, such as VWO, a tool we've used in the past when we're not able to implement smart content or personalisation natively using HubSpot.
VWO starts from $200 per month for the functionality you'd need to implement smart content or personalisation. You'd also need to integrate VWO with a CRM or Customer Data Platform to be able to change content based on contact information from form fills, which requires a web developer and carries significant complexity.
Our Verdict for SaaS Companies
This is an area where HubSpot really excels, as equivalent functionality is virtually impossible to achieve even with Wordpress plugins. Solutions like VWO add complexity and risk harming your SEO without providing a complete solution.
If your marketing website is expected to receive reasonable amounts of traffic (above a few thousand visits per month), you'll find this HubSpot CMS feature highly valuable. Implemented well, smart content plus personalisation will both increase your conversion rates and average time on site.
Security & Reliability
HubSpot
HubSpot is mostly closed source and they provide your cloud hosting, which means they're responsible for maintaining your CMS' security. Hosting more than a hundred thousand business websites, they take security incredibly seriously. You can read their latest (as of this post) security & compliance overview here. (Although to warn you, it's a quite technical 23 page document... Perhaps one to sit-and-read with tomorrow morning's coffee!)
In our ten years' experience of working with HubSpot, we have never experienced a security incident which has impacted us, or anyone we know/work with. As far as we are aware, HubSpot has never experienced a major security incident.
Users do need to be aware of keeping their account credentials safe & secure, and HubSpot offers features like two-factor sign-in to help with this. In the unlikely event that your account was ever accessed by someone who shouldn't have access, HubSpot takes regular backups which can be used to restore your account or any changes made.
When it comes to reliability, we've never had an issue here either. HubSpot is designed so that it's available and accessible even in a variety of disaster scenarios. You can read more about the many steps they take to ensure your account and website are always accessible in the security & compliance overview referenced above. HubSpot targets a minimum 99.95% service uptime (less than an hour's downtime each year).
Wordpress
With Wordpress you'll need to follow password best practices for your Wordpress account itself, just like with HubSpot. It's wise to enable two factor sign-in within your account to reduce the chances of someone logging into your account were they to get access to your password.

Security is Wordpress' biggest weakness. Due to being opensource and used by millions of websites worldwide, it's a huge target for hackers and faces regular attacks and exploits. If you use Wordpress it's therefore essential that you regularly update your Wordpress instance to the latest version, to reduce the risk of being hacked.
Not only do you need to worry about Wordpress, but every plugin you install also adds potential new vulnerabilities to your entire website, due to the way their plugin system works. This means that you need to simultaneously keep all your plugins up-to-date, and are reliant on the development teams of any plugins you use responding to security issues in a prompt manner.
Many Wordpress plugins are operated like hobby businesses rather than professional organisations, which means you need to pay very careful attention to anything you're installing.
Finally, when you choose to use Wordpress you're also vulnerable to any security vulnerabilities that may exist within the web hosting provider you choose, which makes it vital you choose a secure and reliable provider. Anyone can start and run a web hosting business (google "reseller web hosting account" if you want to get started!), and there are huge variants in their professionalism.
Our Verdict for SaaS Companies
When it comes to security and reliability, HubSpot is a clear winner.
Conclusion
Most SaaS companies will find that HubSpot is the better overall solution for their marketing website's CMS requirements. Out-of-the-box HubSpot has better capabilities across a number of important areas, especially from a security & marketing perspective.