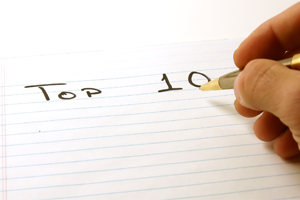 Well, 2013 is coming to a close, and both us and inbound marketing have come a long way throughout the last year. We thought it'd be interesting to go back through all of the blog posts we've published in the year to date, and share the top ten most read with you all. So, without further ado, starting from the bottom...
10) 3 Prominent Marketing Challenges Faced By Consultancy Businesses
This is a post we published in October, that covers three of the most pressing marketing challenges that consultancy businesses face time and time again, along with some practical advice on how to overcome them. An excellent read for the consultancy/professional service business owners out there.
9) The B2B Inbound Marketing Sales Funnel Explained
Struggling to get your head around the top of the funnel, middle of the funnel, bottom of the funnel and the various parts in between? This post guides you from the top to the bottom of the funnel, and explains what happens along the way.
8) The Seven Deadly Sins Of B2B Marketing
I enjoyed writing this post. In it I work through the 7 deadly sins, and how they can all be applied to B2B marketing with disastrous consequences.
7) Is Social Media Marketing Effective For B2B Businesses?
It's a question we're asked a lot, so I decided it was about time we published an answer. We run through some of the key B2B social media marketing reports and their results, and explain how B2B businesses can make the most of social media.
6) How To Develop A B2B Marketing Plan For Your Business
Lots of B2B business owners struggle with developing a marketing plan, and have never endeavoured to do so before. In this post we run through the key steps in developing a plan which will bring you the growth your business needs in 2014.
5) How To Set SMART Inbound Marketing Goals
What does SMART mean, and why is it important? In this post I run through the importance of SMART marketing goals, and how to define them.
4) How Should A B2B Business Budget For Marketing?
Do you know how much you should be investing in your marketing? Many business owners don't, and consequently over or under spend on their marketing. In this blog post, I break everything down.
3) 3 Common B2B Marketing Strategies Compared
Should a business adopt an outbound approach, inbound approach, or hybrid solution? I discuss the pros and cons of each in this post.
2) 5 B2B Lead Generation Techniques That Actually Work
We hear about new lead generation techniques day-in, day-out, but which ones actually work? Read this post to find 5 we've had a heap of success with.
And, finally...
1) 5 B2B Marketing Objectives You'll Never Achieve
In this post I share and discuss 5 different marketing objectives that business owners will never achieve, and explain why they are doomed from the very beginning.
So which were your favourites? Let us know in the comments below! The blog is going to be a little quiet over the Christmas period, but I hope you all have an excellent break, and kickstart the new year in the best possible way.
Best wishes from the Iconsive team, and onwards to a happy & prosperous 2014!