Paid advertising is one of the most powerful tools in a SaaS company's marketing arsenal, especially when you're looking to generate right-fit leads in a relatively small window of time. But PPC is getting more and more competitive, and it's harder than ever to create cost-effective campaigns, and earn a decent ROI.
To help you boost your paid advertising strategy, we've compiled some of our favourite PPC secrets. These are some of the more advanced, SaaS-specific hacks we use - and now you can use them too.
1) Promote Downloadable Content to Target Low Competition Keywords
If you want to use PPC to get your free trial in front of a few thousand people, you're going to have pay through the nose for it. Why? Competition.
Whenever the average SaaS company sets out on to promote their product, their first port of call tends to be the super-product focused, 'I'm ready to buy!' keywords. These Bottom-of-the-Funnel (BoFu) keywords are desirable because they target people right at the last stages of the sales process. Trouble is, everyone targets those keywords, and the end-result is a Cost Per Lead (CPL) that rarely makes sense.
Instead of promoting a free trial, and the expensive sales-focused keywords that come with it, try promoting a downloadable eGuide or a free cheatsheet. If you're selling your SaaS into digital agencies, ditch the free trial sign-up form, and offer an eGuide that looks at agency profitability.
By creating content that appeals to your target persona, you can attract the right people to your website, and capture their contact details at a fraction of the cost - targeting keywords that focus on the needs of the buyer, and not the product itself.
2) Generate Leads with Remarketing and Sniply
Try promoting third-party content via a sponsored post (Facebook, LinkedIn and Pinterest work well), and use sniply to include a call-to-action which promotes your own downloadable offer.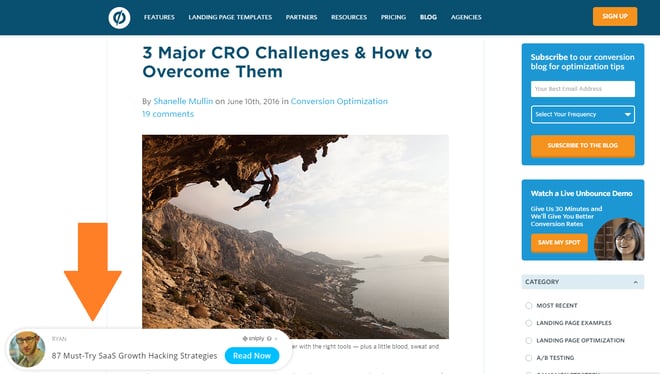 This allows you to leverage high initial click rates by promoting "known brand" content. Armed with a remarketing platform, like Facebook, Google or Adroll, you can then retarget the visitors that engage with your offer.
Retargeted visitors will be familiar with your brand, but they won't necessarily associate you with the advert they originally clicked: great for building trust between yourself and your visitors.
This works best when you find a piece of content which naturally leads onto your own content, so fit here is essential. You also need to make sure that the content you're promoting isn't from a competitor. Great content sources for this are well-known media outlets and tech blogs.
3) Develop Funnel-Based Remarketing Campaigns
Try using Google Analytics Goal Tracking to determine where in the sales funnel particular contacts are.
You can then use a remarketing campaign to promote content which is relevant to the stage of the funnel they're in: promoting lead-generating content to blog subscribers; product-focused content, free trials and free demos to existing leads; or offers and new feature announcements to sales qualified leads and lost opportunities.
4) Experiment with Unusual Ad Platforms
There's more to PPC than AdWords alone, and increasingly, some of the more unusual and untapped advertising platforms offer a better return on investment.
It's worth setting aside a portion of your PPC budget for experimentation: testing the different platforms for their ability to reach the right people, turn them into leads, and do so in a cost-effective way.
It's worth experimenting with:
Sponsored Tweets on Twitter
Paid Pins on Pinterest
Advertising through Bing, as well as Google
Using Outbrain and other ad networks to promote your content across high-profile websites
YouTube. After all, it's the second largest search engine in the world.
There are no hard-and-fast rules as to which platforms will work for you: you simply need to experiment, and find out where your target audience are most likely to engage with you, at the lowest possible cost.