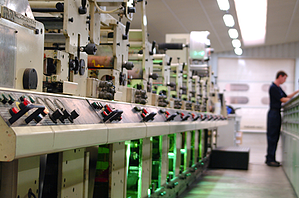 Specialist expertise. It's important when you are selling a technical product. Whether you are selling shale shakers for oil rigs or navigation systems for aircrafts, you need to know your stuff. As a specialist manufacturer, you typically have well educated buyers, and they expect to speak to a salesperson who is technically literate too. That begs the question: is it appropriate for a specialist manufacturer to work with an inbound marketing agency that doesn't have specialist product knowledge, or are they better off having an in-house team?
The Advantage Of An In-House Team
The key advantage specialist manufacturers see when building their own in-house team is that their team is fully immersed in the business. They come into the office every day, they speak to the sales team, they see the products and have the opportunity to fully understand everything about them. In contrast, a partner agency will usually be working remotely.
Does it matter, though?
When you build an inbound marketing team, the key thing you need is inbound marketing expertise. A great marketer can market call answering services as well as they can market conveyer belt systems. The building blocks and opportunities of inbound marketing stay the same no matter what product you sell.
Utilising Non-Marketing Staff
A great marketing agency will work with you to make sure that there is a shared understanding of your buyers, their problems, challenges, and how your solution(s) overcomes them. They will define buyer personas, and investigate your industry to determine what help and advice these people need, where they go when they're online and any social networks they are using. An appropriate partner agency will acquire a solid understanding of your products, and whilst they may not be experts, they'll know enough to do their job well.
When expertise is really required, for example in creating blog posts, or eGuides, a great agency will make the best use of your own experts whilst only placing minimal demands on their time. An agency will develop and direct your marketing strategy. They will use a formal framework to lead all your contributing staff, and assure the quality, maximising results.
Sales team members can often make excellent bloggers, because they're the ones speaking to customers and prospects every day. They will likely have the best understanding of buyer needs, problems, objections and the language they use. When we're working with clients in specialist sectors, we will typically work with the sales team and train them to provide blogging input. We develop editorial calendars and tune content to deliver the marketing results you need: attracting visitors to your website, educating them, and turning them into known sales leads.
When it's not appropriate for sales team members to blog or create content themselves, an effective agency can set up regular scheduled calls to extract the information they need from the appropriate expert for each piece of content to be created, and assure the technical quality of every piece of work produced. The best inbound marketing content brings together copywriting skills, technical expertise and is produced strategically to achieve a specific goal.
Other Agency Advantages
An inbound marketing agency doesn't need any training in new aspects of marketing, and brings the latest experience from numerous other industries to the table, which can help you to be the leader in your industry. Many in-house marketers you hire will likely only have limited exposure to the new inbound marketing methodology, and require significant training to get up to speed and deliver results. Whilst someone working within your company may gain understanding of your products and services faster, is that really of significant value if they can't market your company?
Do you want to spend time continually training and improving the marketing skills of your team? Do you understand specifically what training they need? Do you know how to hire a person with the right skills in the first place? The answer for many specialist manufacturers is a resounding no.
So change the question from "agency vs in-house" and think a bit more about how an agency could extend your company's team and work with you to increase revenue. If you have lots of in-house expertise, how could that expertise be leveraged by working with an agency? Do you really want to worry about training and managing an in-house marketing team when your core business is manufacturing? Or are you looking for an experienced marketing team that can integrate with your company, and implement an effective strategy that will start to deliver results from day one?