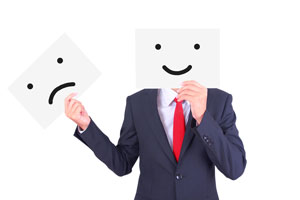 As a B2B marketer, self improvement is an important part of the role.
Fortunately, there's no shortage of skills that can be improved. In this post I will share 5 simple swaps B2B marketers can make to drastically improve the results they achieve for themselves, and their businesses.
1) Features for Benefits
Stop talking about the features. Your prospects don't care about them, they care about benefits.
This advice is repeated time and time again, yet visit an average B2B website and you'll find long lists of features with no mention of their potential benefits to the prospect.
When you're writing that next web page or product brochure, take a step back.
Just think: what does the prospect gain from this? Your average buyer doesn't care whether your product has all the latest bells and whistles. They care whether it can solve their problems, improve their life, make their job easier, help them to get a promotion... The list goes on. This is as true in B2B marketing as it is in B2C.
2) Dials for Downloads
Is your team making hundreds of cold calls each day? It's a tough way to generate leads, and it can often take hundreds of dials followed by a lengthy education process to try and get a prospect on board. That's a waste of time and capital.
Consider swapping your investment in cold calling for producing and promoting downloadable eGuides and whitepapers. You can put your eGuides and whitepapers behind a form on your website that would allow you to grab some basic details and qualify a lead using a marketing platform like HubSpot.
3) Spamming for Nurturing
How do you use email marketing? Do you purchase lists of potential prospects and blast hundreds, if not thousands of emails out to them? Do you regularly send bulk emails out to your entire contact database irrespective of their lifecycle stage, or interests?
You're just spamming! Sending emails that a tiny percentage of your receivers would ever want to receive. All this type of email marketing will do is get you booted from your email service provider and your company reported to spam blacklists (hurting email deliverability).
Instead of spamming people who have no idea who you are, how about approaching email marketing from a different perspective? Focus on building an opt-in contact database, and create personalised email content that engages and nurtures your prospects through the sales funnel.
4) Links for Content and Promotion
Link building in the classic manner is all but dead. Buying, forcing and pushing links is no longer an effective search engine optimisation strategy and if that's all you are doing, then you'll most likely be penalised. Google has cracked down on link building short cuts forcing businesses to focus on earning high quality backlinks.
What's the best way of earning these links?
High quality content and promotion!
Create content that your personas will love, engage with, and then share with their own audience. These are the sort of earned links Google is increasingly looking for. They want to put quality content shared on quality websites at the top of their search results, because it's what the searcher is looking for.
5) Likes and Followers for Engagement
Many B2B marketers focus too much on vanity metrics like followers and reach. While followers are nice, they aren't worth much if they aren't engaging with your brand, and will never buy from you or share your content with others.
So take your time thinking about the type of content that will foster better engagement. Create something that will ask a question or cause a bit of debate. Focus on building an engaged following, rather than a huge following. It's much better to have a few hundred connections that regularly engage with what you say, than tens of thousands that ignore you.
Can you think of any other simple swaps that would improve B2B marketers? Let us know in the comments below, or Tweet us: @iconsive.