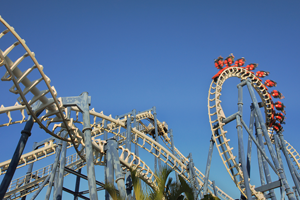 Back in January, Matt Cutts – head of the webspam team at Google – told people to stop using guest blogging as a means of gaining links. This caused uproar among SEO experts who had been using it as their primary link building tactic.
Why Did People Guest Blog?
Guest blogging was originally an honourable practice where a coveted blogger would contribute content for an equally coveted site. This was a win-win scenario. The blogger would get fresh, relevant content that resonated with their audience, and the writer would get to demonstrate their expertise, increase their exposure and secure a link back to their own website.
Where Did It All Go Wrong?
The problem was that over time companies and marketers which knew the importance of backlinks for SEO began to produce guest blog posts which were solely designed to turn the crank and get a massive number of links: artificially boosting search rankings.
The quality of guest blog posts got worse and worse, and websites began to crop up which only shared low quality guest blog content. Many companies, affiliates and unscrupulous agencies would even offer the same blog posts to websites multiple times, or use a technique known as spinning to make posts "unique".
Eventually the situation escalated to a point where Google decided they needed to act, and they began penalising websites using guest posts purely to manipulate their search engine, to improve the quality of search results.
Why Should I Guest Blog Now?
Many companies unsurprisingly stopped guest blogging when Matt Cutts declared it as 'done' due to a fear of getting penalised by Google.
But guest blogging was never intended to be solely an SEO tactic, and Cutts has even admitted himself that there's still a place for high quality guest posts. Guest blogging was and is about producing great content that engages audiences, and Google will never penalise great content.
Guest blogging done for the right reasons can help you to:
1) Grow your reach and bring in traffic
By posting on a relevant blog you're gaining access to a new audience. If this audience is interested in the content you're producing then they might head back to your site and become a lead, or customer.
2) Diversify your traffic sources
You want to have as many traffic sources as possible. Putting all your efforts into organic search (or any channel) alone can be risky, for example, as the world and search algorithms are always changing. By regularly guest blogging on popular, relevant blogs you can gain a significant amount of referral traffic.
3) Increase brand awareness and authority
By regularly guest blogging you're increasing awareness of your brand through essentially free advertising. By being featured on another blog you're also borrowing their credibility. Both your own and their audience will begin to see you as an authority figure.
4) Build relationships
The most overlooked benefit of guest blogging is building relationships. By reaching out to your cohorts and guest blogging on their sites you're be building a bridge. This could lead to future business partnerships, and other introductions.
How Can I Make Guest Blogging Effective?
So now that you know the benefits of guest blogging, how can you make it work for you?
1) Pick relevant websites
Guest blogging works best when you pick a blog that your audience is reading. Say for example, that you're selling a piece of software that's primarily bought by middle aged men – you don't stand to benefit much from guest posting on a woman's fashion blog.
2) Pick thriving websites
Not only should the website you post on be relevant, but it should also be able to drive a large amount of targeted traffic or at the very least help you gain credibility. If it does neither of these, why waste your time?
3) Guest blog on a regular basis
While one off posts have their value, a series of posts tend to perform better. It takes time to build and develop trust with a particular audience.
4) Do your research
If you would like to write a guest post for another blog, do your research. Sending out a cold email will reflect badly on your brand and will be unlikely to solicit a reply. Know who you're emailing, what their blog is about, and who they're trying to influence.
Would you reply to a guest blogging request from someone who can't even get your name right?
It's best to try and build a relationship with someone before pitching a guest post idea.
5) Time yourself
It can be easy to over commit yourself. Writing can be a lot of work and you need to be realistic with how many blogs you can effectively contribute to, especially if you have a content editor proofing your work.
6) Provide a next step
At the end of each guest post you contribute, provide a next step. What do you want your readers to do next? While it would be nice if they went over to your site and spent hundreds of thousands, that probably won't happen. Start a dialogue -- get your audience to comment, email or follow you on social media.
Many saw Matt Cutts' article as the death of guest blogging, but really we should be thanking him. Cutts' vendetta wasn't against guest blogging, it was against spam: the unoriginal, drab, low quality content that no one wants to see.
Guest blogging isn't dead. It's back and as effective as ever -- you just have to do it right.