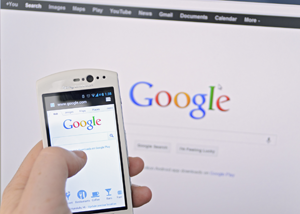 Search engines. We all use them. You may well have used one to find this post -- probably Google.
It's therefore no surprise that many businesses want to increase the exposure of their websites in search engine results.
One way of improving your website's visibility in search engines is a process known as search engine optimisation, or SEO for short. In today's post I explain what SEO is, and highlight the pros and cons of utilising it as a part of your marketing strategy.
What's SEO's Purpose?
The purpose of SEO is to improve your website's rankings for search phrases your target audience could be using to find businesses like yours. SEO focuses on increasing rankings in what's known as organic search, the search results to the left and below the paid ads in search engines like Google.
What Are The Most Common SEO Techniques?
SEO comes primarily in two forms: onsite and offsite. Onsite SEO consists of all the various changes you can make to your website and content in order to make it more likely to rank in search results for your targeted keywords. Offsite SEO is work you do off your website, usually to increase the authority of your website and its pages in the eyes of search engines.
An SEO strategy will often include:
Keyword research - analysing search keyword data to determine what is being searched for by people in your target audience to find new keywords to rank your website for. Any effective SEO strategy requires keyword research before the campaign begins, and on an ongoing basis as more data is collected.


Linkbuilding - the process of building links to your website from other websites, increasing its authority in the eyes of search engines. Search engines like Google view links from other websites to your website as votes for its content, making it a common dimension of many SEO strategies. Increasingly Google is discouraging many linkbuilding strategies, and linkbuilding is a lot harder to do effectively than it once was.
Citation building - the process of building references to your business' contact details and information in directories. This is particularly relevant for businesses competing in local markets. Search engines like Google use references in directories to validate the legitimacy of your business, which is important in local search results.


Keyword optimisation of content - going through all of your website content and code, and ensuring that your pages are appropriately keyword targeted. This can be things like ensuring the phrases and keywords you want to rank in search engines for are included in title tags and descriptions throughout your website.


Site structure optimisation - going through the website and ensuring that your most important keyword targeted pages are showcased throughout your website, to maximise their authority.
There are hundreds of things search engine optimisation experts can try to improve in order to improve search rankings, but the above represent the most common.
The Benefits Of SEO As A Marketing Technique
Your return on investment once rankings are established is often much better than most other marketing methods, according to studies.
Your search engine rankings tend to build up and improve over time, delivering a snowballing return on investment.
Organic search results get the lion share of search engine clicks (with some studies citing up to 94% of total clicks going to organic search).
The Cons Of SEO As A Marketing Technique
The SEO landscape is always changing. Google frequently update their algorithms and your rankings can drastically change overnight.
It's often difficult to forecast rankings, or anticipate how much it will cost you to rank for a particular keyword before you are ranking for it.
Some SEO experts and agencies still rely on techniques which can risk penalising your website in search engine results.
So there we go, a brief introduction to the world of SEO. SEO is an incredibly cost effective way to drive targeted, high intent traffic to your website, and generate leads. Before you invest time or money into implementing an SEO strategy for your company though, remember that it's just part of what needs to be done to drive search engine traffic, and that SEO is useless without lots of great content (for example on your blog) to rank in the first place. The most effective marketing strategies combine a variety of inbound marketing techniques, like social media marketing, SEO and blogging to drive traffic.