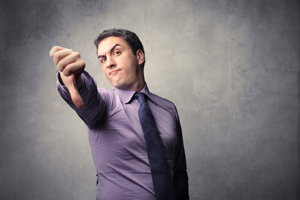 Inbound marketing is one of the most effective ways to market a business (93% of companies using inbound marketing increase lead generation), and being effective involves regular content creation.
The problem is, many businesses just don't get it.
They make content that costs them business, rather than supporting the process they need to generate revenue.
In this post I discuss some of the mistakes businesses make when creating content, and explain why it's bad for business.
Copying Competitors
Copying your competition is one of the worst ways to create content. You upset other people in the industry, and end up looking like a clone of your competitors, rather than a business with its own unique identity and offering.
When creating content for your business, you need to think carefully about your key differentiators, and what separates you from companies that sell similar products and services. Define your unique value proposition, and make sure that your content supports that proposition.
If your content doesn't reflect on your brand identity and communicate your position in the market, it won't bring the business benefit you intend.
Writing About Yourself
Too many companies start producing content as part of their inbound marketing strategy, and only write about themselves. They publish posts about awards they've won, conferences they're attending, new members of staff, new products/services/features and little else. This is of little interest to your target audience, because quite frankly, they don't care.
Your potential customers only have time to learn how to overcome their own problems/challenges, and so have little interest in reading about what is happening at your company every week.
Always Selling
Another big mistake businesses make when starting to create content for their inbound marketing strategy is always selling.
They should be thinking about how to best help their prospects and build a trusting relationship, rather than only thinking about the best way to promote their products or services.
That results in content that reads like a sales pitch, rather than something of value that provides objective help. No one wants to waste their valuable time reading sales pitch after sales pitch, whether it's on your blog, in a whitepaper, or during a webinar.
Shift your focus, and try to help your target audience to solve their problems -- don't ask for anything in return. If your prospects like what they read, they'll trust you -- and go on to become a better lead for your sales team.
Writing for The Wrong Person
It's important when your company writes any content that it has a clear idea of who its buyer personas are.
If you're an enterprise CRM software provider, it makes no sense to write blog posts about the X-Factor. Likewise, if you're an accounting firm -- it's pointless to write an eGuide about HR.
You need to create content that your target audience will find useful. Far too many companies make the mistake of seeing themselves as the target audience, and therefore produce content that does not resonate or even alienates their target audience.
Take the time to develop your buyer personas, and think about them before you create a piece of content, when you're writing it, and check it again after it's written. Only write for one persona at a time, and don't write anything that won't be helpful to them.