"The initial sale is critical, but it's just the tip of the iceberg" - Lincoln Murphy
For SaaS companies, upselling to your existing customers can unlock huge opportunities for growth, enabling you to generate additional revenue with substantially lower customer acquisition costs. The good news is that existing customers are much easier to sell to: the probability of converting an existing customer is 60-70%, compared with only 5-20% for acquiring a new customer (source).
But if it's so much easier to sell to your existing customers than acquire new ones, why do so many SaaS companies struggle in this area? Simple: it's a question of timing.
When's the Perfect Time to Upsell?
Is Your Customer Succeeding with Your SaaS Product?
The first step to successfully upselling to your existing customers is to get them using your product, and getting value from it. But in order to understand whether they are getting value from your service, you need to know what success looks like for them.
"Your customers will have one overall desired outcome from using your service, and then smaller goals that indicate they are on track to achieving that outcome successfully."
- How to Measure Your Startup's Customer Success
For example, if your service is a time-tracking tool, your customer's desired outcome could be for their team to accurately bill for their next project. In order to do this, there are certain milestones they would hit that indicate they are getting repeated value from using your service. These could include logging in every day for a week, or inviting three other team members to use it.
When you are able to identify indicators of customer success, you will be able to identify those customers who are likely to want or need the added features or functionality that they can get from upgrading their service.
Does it Make Sense to Upsell to Them Now?
You want to upsell to a customer at a time when they have a need for your additional features – a time when upgrading makes sense to them. The best upselling opportunity is when your customer reaches a defined success milestone that has a logical opportunity for expansion related to it.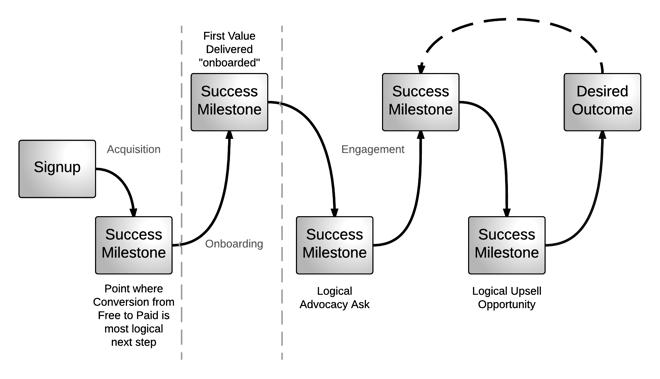 Image source
For example, if the basic package for your time-tracking tool has a limit of 5 users, then when your customer invites a 5th person to join their team, they have reached the limit of the number of users permitted on your basic package. Sticking with this package will limit the value they get from it, so it's a fantastic opportunity to reach out to that customer and offer them the chance to upgrade.
Will Your Customer Benefit from an Upsell?
The most important thing to remember is that upselling to your SaaS customers should never be random. You need to focus on the customer, rather than your service:
What does your customer need from your SaaS product?
What would the upsell help your customer to do better?
Does the customer's existing usage of your SaaS product suggest they would get an appropriate level of value from the upsell?
It's very easy to focus your communication with the customer on your product, when in fact your focus should be on how it will benefit them.