As a SaaS founder owner, you probably hear of new online lead generation techniques all the time. There's always something new you should be taking advantage of, but it's rarely backed up by figures, right?

Stats time: online lead generation is an extremely important tool for any growth-hungry SaaS business. Recent studies have found that companies generating 60% or more of their leads online are twice as profitable as those generating less than 20% of their leads online.
In today's post I cover 5 lead generation techniques your software startup can start using to increase the number of leads it generates online.
1) Create a web form to collect customer details, in exchange for access to premium content
What's the idea?
The easiest way to increase the number of leads your website delivers, assuming it already gets some traffic, is to put up a landing page promoting a piece of premium content.
When your customer fills in the form, you give them the link to access or download your premium content. If you don't have time to create webinars, eBooks or other content, then perhaps you can re-purpose content you already have. For example, you can take a customer-focused Slideshare and turn that into a piece of content your prospects would find useful.
How can I do this?
The simplest way to create landing pages is to use a tool like Unbounce. Integrate Unbounce with a tool like Mailchimp, so that you can create auto-responder emails that follow-up with people who downloaded your content. Better yet, do it all in one place with a marketing automation tool HubSpot.
In these automated emails a simple way to get started is to ask them for questions/feedback on the content, then offer them a free software demo, consultation or other service to get them into your sales funnel.
Why should I do it?
Websites with landing pages generate more leads. It's that simple. The more offers your website has, and the more landing pages it has to sell those offers, the higher the chance that a visitor to your website will land on one which solves a pain point they are experiencing.
In a study done by Hubspot, businesses with 31 to 40 landing pages got 7 times more leads than those with only 1 to 5 landing pages.
2) Start a pay per click campaign on LinkedIn
What's the idea?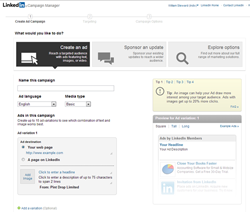 LinkedIn is a marketing channel often neglected by businesses. They may have a profile, engage in groups and have personal profiles setup for their staff which is excellent, but they never think to experiment with paid LinkedIn ads.
LinkedIn offers your business the opportunity to target ads specific people at specific organisations, or in specific sectors. For example, if you wanted to target your ads at business owners in the UK, in the finance industry, you could do that. Likewise, if you wanted your ad to be seen by every single employee at Salesforce, you could do that (or come close).
An excellent way to use LinkedIn ads is to promote your landing pages. By creating targeted ads around the pain points your content solves, you can generate many leads with paid LinkedIn ads, cost effectively.
How can I do this?
Setting up a LinkedIn advertising campaign is pretty simple. Click here, press "Get Started", login, and choose "Create An Ad". LinkedIn give you tips as you go along, and hold your hand throughout the process.
It helps to be able to write great copy, and it's a great idea to be constantly experimenting with new ad text, different target personas and images to see what works best. Start with a low budget, and increase it as you begin to generate results. There's a great post here, that explains how to create a great LinkedIn ad campaign step-by-step.
Why should I do it?
Generally, it's fairly under used. For high ticket B2B sales, LinkedIn ads should be able to deliver an excellent return on investment. LinkedIn has over 70 million registered users worldwide, of which 50% are business decision makers in their company.
3) Build & maintain a regularly updated company blog
What's the idea?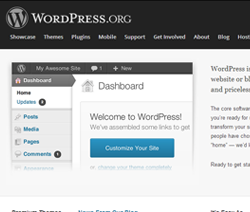 Blogging is a modern phenomenon, and it's all about sharing great content with your website visitors. Content which helps your readers to solve their business problems (for example, this post is helping you - hopefully - to learn some new methods you can use to generate more leads online).
How can I do this?
Blogging isn't as instant as some of the other suggestions in this post. The quickest way to get started is to sit down with your sales and marketing teams, and jot down all the common problems that prospects face. You can then assign people amongst your team to write blog posts that solve each problem one by one, and schedule them on your blog. This should be a good way to get a lot of posts written fairly quickly.
Long term, you want to be trying to write a few blog posts a week. This is a great post to read to learn more about how to blog effectively.
Why should I do it?
There's lots of great reasons to blog:
B2B companies with blogs generate 67% more leads per month on average than non-blogging firms. (via Social Media B2B)
Blogs give websites 434% more indexed pages and 97% more indexed links. (via Hubspot)
Blogs are 63% more likely to influence purchase decisions than magazines. (via ContentPlus)
Companies that blog 15 or more times per month get 5x more traffic than companies that don't blog. (via Hubspot)
Companies that increase blogging from 3-5 times per month to 6-8 times per month almost double their leads. (via Hubspot)
An average company will see a 45% growth in traffic when increasing total blog articles from 11-20 to 21-50 articles. (via Hubspot)
4) Create and distribute infographics
What's the idea?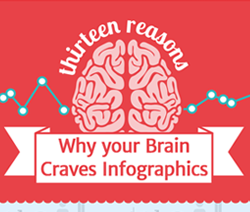 Infographics are easier for readers to quickly digest than long text content in many cases. An infographic takes a lot of data, or content that's otherwise hard to consume, and lays it out in a way that's easy to consume. Check out this list of excellent infographics, to see what they are all about.
How can I do this?
You'll need a designer available to get an infographic created, either one available in-house or at a partner growth agency. The best infographic ideas typically come from analysing your company's own data, to give visitors an industry insight that other companies can't provide.

Why should I do it?
Infographics are extremely easy to consume, and frequently go viral online, getting shared amongst thousands of people, vastly raising your brand's awareness.
Publishers who use infographics grow traffic an average of 12% more each year than those that don't. (via AnsonAlex)

Visuals are processed 60,000x faster in the brain than text. (via Zabisco)
40% of people will respond better to visual information than plain text. (via Zabisco)
5) Optimise your website for search engines
What's the idea?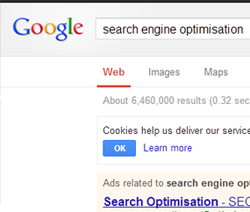 Search engines are not as intelligent as humans (yet...). They can't tell what images on your website represent unless you tell them. They struggle to determine the meaning of your pages without a bit of prodding, and may not find parts of your website at all if it is not structured properly.
Search Engine Optimisation (SEO) is all about optimising your website for search engines, so that your website shows up higher in search rankings for the keywords your prospects are using to find your products or services.
How can I do this?
SEO is a rapidly evolving field, so I often recommend that most SaaS founders/exectuvies don't attempt to do SEO themselves, or pass it into an inexperienced/otherwise busy employee to handle.
If you are serious about your SEO, you need to talk to either an SaaS growth agency with thorough SEO experience, or a dedicated SEO agency, that specialises in optimising websites for search engines. A good agency will keep your company's website ahead of the curve in terms of SEO best practices, and maximise search traffic within your budget.
Why should I do it?
Everyone is using search engines to find businesses. If your company isn't showing up in search results, you're losing business. Don't just trust me though, see what the research says:
Worldwide, we conduct 131 billion searches per month on the web. (via Comscore)

70% of the links search users click on are organic, not paid. (via Marketing Sherpa)
60% of all organic clicks go to the top three organic search results. (via Marketing Sherpa)
75% of users never scroll past the first page of search results. (via MarketShareHitsLink.com)
70-80% of users ignore paid search ads, focusing on the organic results. (via Search Engine Land)
Search is the #1 driver of traffic to content sites, beating social media by more than 300% (via Outbrain)
So what are you waiting for?
Implementing these lead generation methods will result in your SaaS company growing faster, generating more leads for less, and becoming more profitable. If you don't have the skills or time available in house, why not consider hiring an SaaS growth agency to help?