It's time to take the guesswork out of lead generation, and create a scalable, data-driven process for uncovering the identity of your anonymous visitors. Today, I'm showing you how to develop a lead generation framework for your SaaS business.
The Problem of Anonymous Visitors
Website visitors come in all shapes and sizes, from sales-ready buyers to sceptical researchers (and even a few people who've ended up on your site by mistake). In order to determine which visitors are which, and identify potential customers, we need to learn more about them.
However, turning anonymous website visitors into identifiable leads is easier said than done. It's a challenge to attract visitors to your website, and even then, most people are reluctant to share their personal information.
The Framework
In order to consistently generate leads, we have three problems to overcome:
We need a tried-and-tested way of attracting people to our website.
We need to ensure that website visitors can see a clear path, from initial visit, to becoming a lead.
We need to offer visitors a compelling reason to become a lead.
Thankfully, inbound marketing offers the tools we need to solve these problems. By combining blog posts, CTAs, content assets and landing pages, we can create a defined lead generation framework: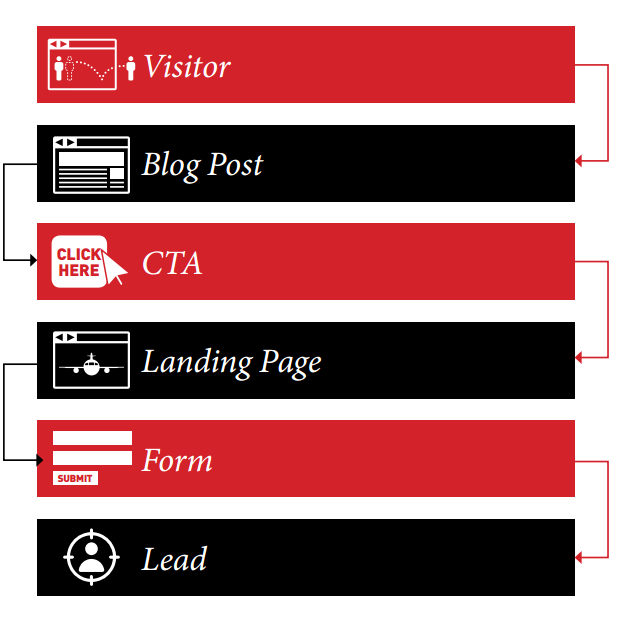 1) Blog Post
By consistently creating helpful, informative content, blog posts can be used to attract visitors to your website, primarily through social media referrals, and organic search traffic.
On a single-page website, there's only one way for visitors to find your company: visiting the homepage. In contrast, blogging creates hundreds of ways to find and engage with your website, with each blog post functioning as an extra 'door' into your site. The more blog posts you have, the easier it is for visitors to find you.
With a decent stable of blog posts, you'll be able to generate high levels of website traffic. We can then use CTAs to begin the process of converting those visitors into leads.
2) Call-to-Action (CTA)
A call-to-action (or CTA) is a clickable button or banner, typically found at the bottom of a blog post. It's designed to begin the process of convereting visitors into leads, by promoting a valuable offer, and directing visitors to a landing page to claim it.
3) Valuable Offer
In order to turn anonymous visitors into identifiable leads, we need visitors to part with personal information: typically their name, email address and company.
However, personal information is valuable, and it's likely that your website visitors will be reluctant to offer it up. To turn visitors into leads, we need to offer them a reward for parting with their personal information.
The easiest way to offer that value is by creating content assets. By analysing the needs of your buyer personas, you can create helpful eBooks, whitepapers and guides; solving the visitor's problems in exchange for their contact details.
Learn more about creating valuable content assets: How to Write Whitepapers That Generate B2B Leads.
4) Landing Page
Landing pages are dedicated website pages that act as a sales-pitch for your offer, using concise copy, social proof and a featured image to convey its relevance, benefit and desirability.
To learn more about developing and improving your landing pages, check out 17 Ways to Optimise Your SaaS Landing Pages.
5) Contact Form
Contact forms are the business end of your lead gen framework, allowing visitors to download your offer, in exchange for select contact details and insights.
However, not all visitors will successfully submit a contact form and become a lead. The percentage of landing page visits that yield successful submissions is known as your conversion rate - and to improve your lead generation, it's essential to annalyse and improve the conversion rates of CTAs and landing pages.
To learn how to optimise your contact forms for maximum conversions, check out: Form Fields and Conversion Rates: Is Less Really More?
Unlocking Lead Generation Insights
In order to benefit from a steady stream of new customers, you need a strategy for generating more leads, and a way of attracting the right types of leads to your business.
Thankfully, by creating a defined lead generation framework, you'll have clear visibility into an area of marketing historically hidden from view.
You'll be able to monitor website traffic, and identify popular blog post topics; and by monitoring conversion rates, you'll be able to continually develop, improve and refine your lead generation strategy.