On the long road to success, your new SaaS product has to go through several stages of growth, and attract a multitude of different buyers.
If we look at the Technology Adoption Lifecycle, technology enthusiasts represent the first hurdle you'll come to; and successfully developing, growing and scaling your product will require you to understand (and effectively sell to) these crucial buyers.
Today, I'm exploring this enigmatic group of potential customers - and helping you to understand exactly how to sell your SaaS product to technology enthusiasts.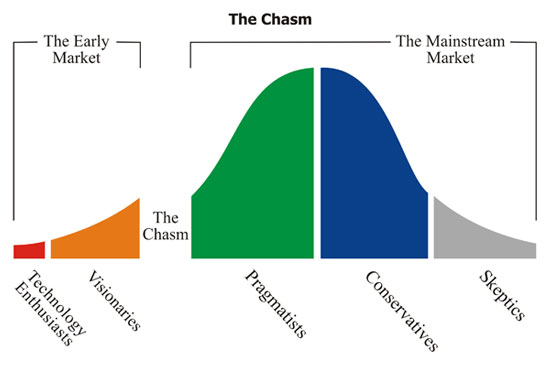 Who Are Technology Enthusiasts?
Technology enthusiasts represent the very first people to adopt your product. They're the buyers that take risks on young, unproven SaaS ventures; adopting new (and often unfinished) products that lack a defined business case or a proven track record.
They have a very high tolerance for risk, often adopting SaaS products which later go on to fail. Particularly with enterprise buyers, these costs of failure are often offset by significant financial resources, allowing technology enthusiasts to adopt multiple early-stage products.
When your SaaS product is in its infancy, these buyers are invaluable. They're the people that provide your business with its first tentative inflows of revenue, and their feedback and input helps refine and shape the future direction of your product.
Whilst tech enthusiasts are typically willing to pay for your product, the revenue they provide won't be anywhere near as significant as revenue gained from later adoption stages.
Tech enthusiasts represent the smallest segment of the product adoption lifecycle (estimated at about 2.5% of the total market for your product); and crucially, view themselves as active participants in the product development process. They'll provide feedback and insight into the functionality of your product, but they'll be less willing to contribute revenue as a result.
What Do Technology Enthusiasts Care About?
Technology enthusiasts represent a unique part of the technology adoption lifecycle, with their buying decisions almost completely devoid of traditional business motivation. Instead of purchasing your SaaS product because of its track record, established case studies and proven ROI, they'll adopt your product because of its unique status as new and innovative.
They're the people that love technology for technology's sake. They'll use unfinished software, and put up with bugs and glitches, simply because they value being the first to use a new product. They'll understand why you don't have any case studies, or user testimonials – and instead of being alienated by a lack of conventional social proof, they'll be motivated by it.
In many cases, their adventurous buying decisions are amplified by their professional reputation. It may be that introducing new technology is a key part of their role, or that their colleagues and clients expect them to be at the cutting-edge of industry innovation. In these instances, tech enthusiasts benefit from new products through the sheer virtue of them being new – without any need for more tangible business benefits.
How to Sell to Technology Enthusiasts
In order to sell to technology enthusiasts, it's essential to identify their pain points, and develop marketing strategies to systematically address them.
1) Recognise Their Importance
Tech enthusiasts are unlikely to contribute a vast amount of revenue, but they're crucial from a product development standpoint. Think of them as paying beta testers, helping you to refine and shape the direction of your product, ready for the visionaries, pragmatists and beyond.
2) Focus on Technology, Not Just Business
As an early-stage product, you won't have a proven business case. Thankfully, this isn't necessarily a deal-breaker for most technology enthusiasts. These buyers don't fixate solely on the business case, and care as much about the technology's potential as they do for it's proven track record.
Whilst it's always helpful to highlight the potential business case of your product, it's just as important to focus on the technology of your SaaS product – highlighting its innovations, and potential to disrupt.
3) Think to the Future
Part of the appeal of new technology is its implications for future technology. Whilst tech enthusiasts don't buy because of their belief in future performance or monetary gain, they're likely to believe that your product is the first in a long-line of new technologies - so it's important to be explicit about your vision for future technology and product innovation.
4) Appeal to Their Egos
It's important to appeal to a tech enthusiast's experience, and ask for their insight and help in developing your product. Talk to them as more than just customers – they're almost investors, helping you to shape the product, as well as use it.
5) Harness the Power of Urgency
Tech enthusiasts gain benefit from being the first to adopt a new product. To capitalise on that motivation, you need to highlight the fact that your product is new to the market, and in an early stage of development – and emphasise that, by buying now, their input will have a real impact on the product's development.
If you're feeling particularly adventurous, you can even ask potential buyers to request early access, adding a sense of exclusivity to their purchase.
To learn more about marketing your SaaS product at each of the different stages of growth, you can download our new eBook below.