In order to reach the mainstream market, your SaaS product has to find its way into the hands (and hearts) of two different types of buyer.
We've already looked at technology enthusiasts, and discovered how to leverage their passions and pain points to sell your product; and now, we need to look at the other half of this crucial early stage market: visionaries.

Who Are Visionaries?
Visionaries, along with technology enthusiasts, form the first segment of the technology adoption lifecycle, known as the early market. Together, these two types of consumer play an essential role in growing your business, with each willing to adopt your product with little in the way of social proof or a proven track record.
Despite their shared tendency to take risks on new products, these two types of buyers have little else in common.
Tech enthusiasts are driven by the potential of the technology behind your product, deriving benefit through the sheer virtue of being new and innovative. In contrast, visionaries are interested in its potential use case, and seek out the products that offer the biggest scope for business benefit.
Visionaries have a dream for their business, and for your product. They have a strong idea of what they want your product to be, and will often want to influence the development of your product to bring it in line with their own vision.
This can be hugely useful for the ongoing development and refinement of your offering, but crucially, the input of visionaries can be less grounded and feasible than that of tech enthusiasts.
Whilst tech enthusiasts provide your business with its first tentative cash inflows, visionaries offer a chance to significantly increase your revenue. Visionaries make up a much larger part of your total market than technology enthusiasts (13.5% compared to 2.5%), and are typically willing to spend much more on your product.
This is borne from their belief in the potential of your product, allowing visionaries to justify large investments in pursuit of even larger returns.
What Do Visionaries Care About?
Visionaries are the people that want to earn recognition for making massive changes within their organisation, and use that kudos to springboard to a more senior role. Whilst the allure of improving the productivity and efficiency of their business is still important, it's the products that promise to revolutionise their business that prove most attractive.
As a result of this, the promise of a good, but not exceptional, return may not be enough to bring visionaries on board.
Visionaries are often guilty of harbouring unrealistic aspirations and goals; and whilst they won't expect all of their investments to realise these goals, they'll look for products that are obviously setting out to achieve big things. A SaaS product that errs on the side of caution, and promotes itself in a distinctly modest way, may not do enough to attract these types of buyers.
Instead of being relatively unconcerned about the potential business case of your product (like tech enthusiasts), visionaries are almost hyper concerned, seeking out promises of exponential returns and massive growth.
Whereas tech enthusiasts care more about the product's technology than its potential business case, visionaries are motivated by the potential business rewards, and care little for the technology that enables it.
How to Sell to Visionaries
1) Change Your Messaging
The first step in selling to visionaries is changing your messaging. With profound differences between tech enthusiasts and visionaries, the strategies you used to launch your product won't necessarily be the right strategies to help you grow it.
As you move through the technology adoption lifecycle, you need to constantly refine and alter your messaging to appeal to different types of buyer.
2) Increase Your Pricing
Visionaries have a desire to realise incredible results, and are willing to spend money to do so. In other words, they'll be willing to bear a much higher price than tech enthusiasts were – and as long as you have the perceived potential to back it up, you'll be best served by upping your product price.
3) Develop Competitor Comparisons
When a visionary buys your product, they're making a declaration of their faith in your business – choosing your product, above all others, to help them realise their lofty goals. You can leverage this by creating explicit competitor comparisons, and highlighting the benefits of your product over its rivals.
Box famously leveraged this strategy when taking on established giants Sharepoint, creating a marketing campaign as effective as it was aggressive.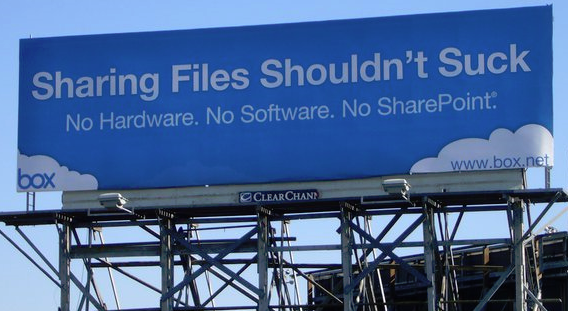 4) Start Promoting Case Studies
Case studies from early customers can provide an early form of social proof, and act as a way of reinforcing your ability to achieve incredible results.
With visionaries so concerned about the potential business case of your product, promoting an example of stellar results can be hugely powerful. Crucially though, these results need to be impressive – and promoting a mediocre case study may damage their motivation to buy.
5) Understand the Vision
If you want to sell to visionaries, you need to get inside their heads, and understand the dreams and ambitions that drive them to buy. The easiest way to do this is by interviewing your current customers, and creating buyer personas from their insight.
To learn more about marketing and selling your SaaS product at different stages of growth, you can download our 71-page eBook below.