No amount of technology can make up for bad strategy, but having the right tool stack backing-up your inbound marketing can make the difference between a "decent" campaign, and a torrent of leads, demo requests and free trials.
If you're keen to augment your marketing with some savvy tech choices, I've hand-picked 21 inbound marketing tools to check out. Ranging from ubiquitous all-in-one platforms to super-niche hidden gems, these are the inbound marketing tools we regularly use to grow visitors, leads and customers.
1) HubSpot | Marketing Automation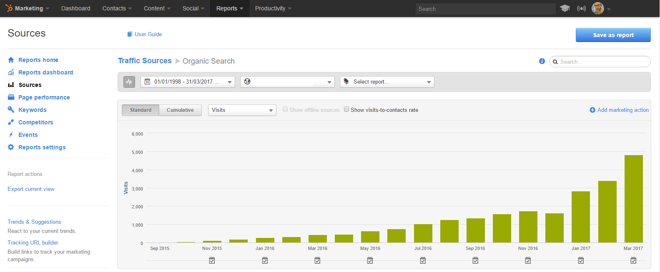 With inbound marketing created and popularised by HubSpot, it's no surprise that their best-in-class marketing automation platform claims top spot on our roundup of inbound marketing tools.
HubSpot is the foundation we use to build out inbound marketing: a one-stop-shop for creating, optimising and promoting content, building out lead generation funnels, automating lead nurturing, and reporting on end-to-end performance.
It's even available for free.
2) HubSpot CRM | Relationship Management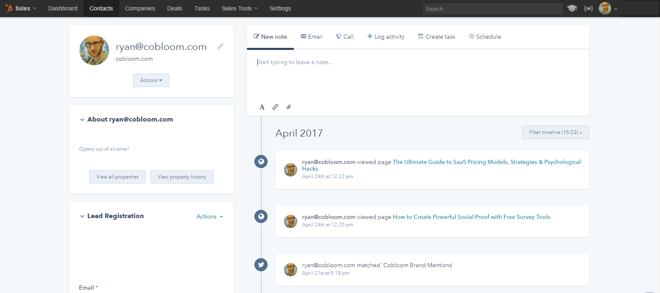 CRM tools provide a way to manage your ongoing relationships with visitors, leads and customers, documenting every interaction they've ever had with you, your company and your website.
After all, lead generation is only half the challenge of inbound marketing, and it's tools like HubSpot CRM that allow you to understand those leads - their likes, dislikes, challenges and passions - and reach out at the perfect time. It's also a must-have for ROI attribution.
Alternatives: Pipedrive, Salesforce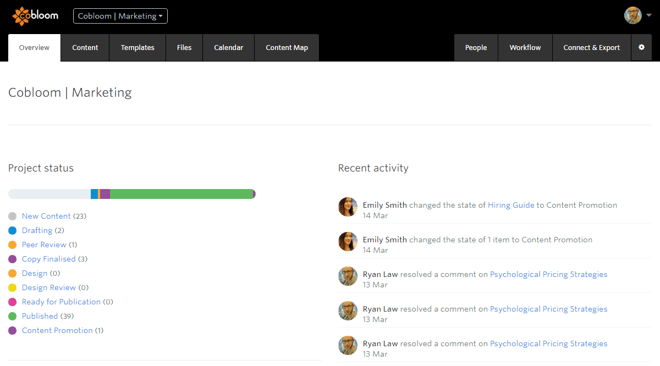 From blog posts to eBooks, website copy to podcasts, content is the engine that drives inbound marketing. In the early days, it's easy to keep track of your content, but as you scale your marketing, take on new channels and hire new marketers, dependencies, deadlines and approvals grow alongside.
GatherContent is a way to organise the chaos of content marketing, applying repeatable processes and visual workflows to turn unruly projects into slick, well-oiled campaigns.
Alternatives: Trello, CoSchedule
4) BEACON | EGUIDE DESIGN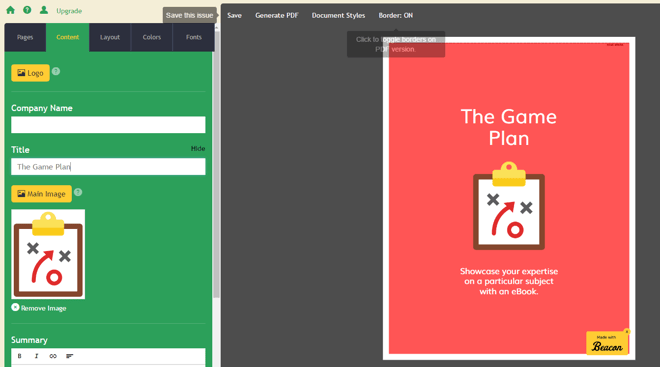 Everyone loves an in-depth eGuide or free eBook, but not all companies have the time and resources needed to produce professionally designed content on an industrial scale.
That's where Beacon comes it: it's a dedicated eGuide-design tool, pre-loaded with beautiful layouts, imagery and typography. At the click of a button you can import content - whether that's a new eGuide draft or a sequence of blog posts - and transform it into a finished product, with no design expertise required.
5) JOTFORM | FORM BUILDER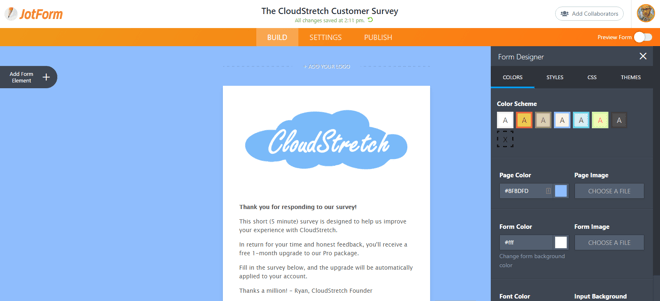 Whether it's a sales query, a customer support request, or a free eGuide download, a huge amount of inbound marketing's success relies on the humble contact form.
JotForm is a free form builder that makes it incredibly easy to structure, design and embed functional forms at the click of a few buttons - great for everything from NPS surveys to generating powerful social proof.
Alternatives: HubSpot, Contact Form 7
6) Unbounce | Landing Pages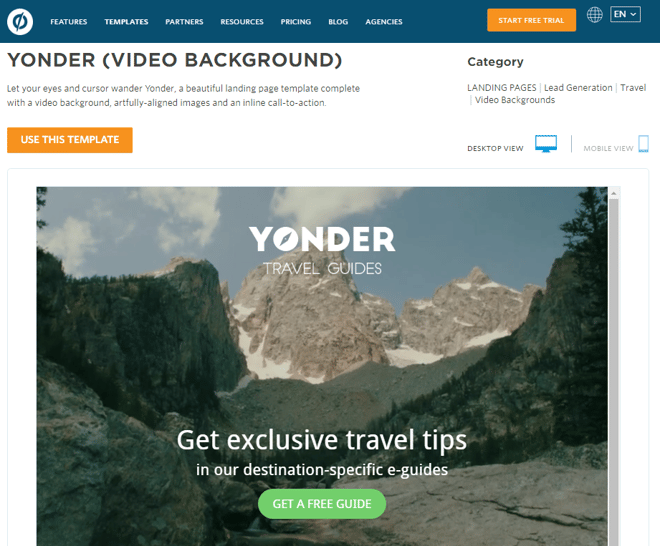 Landing pages are where the magic of inbound marketing happens, where visitors transform into leads, MQLs turn into SQLs, and would-be customers become loyal brand evangelists.
Unbounce provides a quick, effective way to build out, optimise and track your landing pages, using proven templates and no-coding-required design flexibility to develop beautiful, functional landing pages in a massively scalable way.
Alternatives: HubSpot
7) SUMO | CONTENT UPGRADES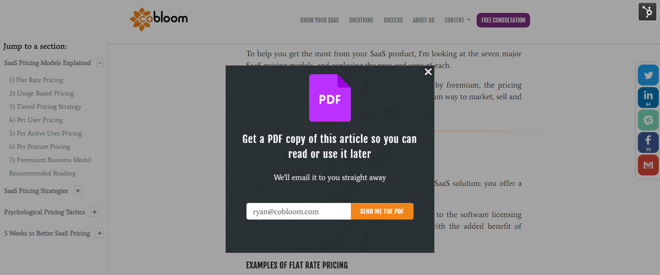 A new suite of lead generation tools have appeared in recent years, designed to complement "traditional" landing pages and take advantage of the efficacy of pop-ups, in-line forms and scroll boxes.
For sites running WordPress, Sumo is a great tool for getting up-and-running with these "content upgrades" in the shortest time possible, allowing you to offer gated content and mailing list opt-ins in a novel, high-efficacy way.
Alternatives: HubSpot, OptinMonster, Unbounce
8) DRIFT | LIVE CHAT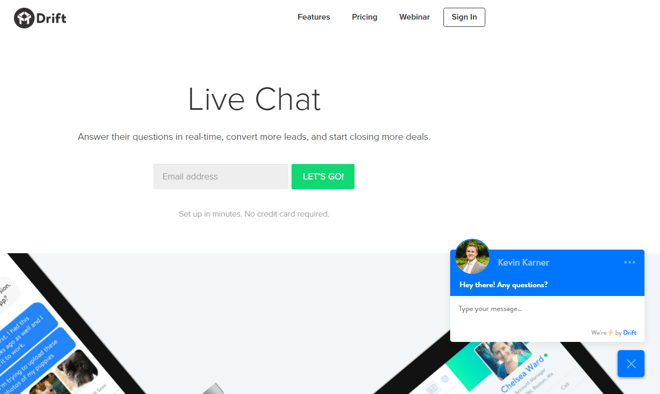 Live chat is a great complement to the sometimes slow and impersonal world of contact forms. Drift are at the forefront of the trend, using machine learning, chatbots and a whole host more to engage visitors in a natural, conversational way.
And if you thought Live Chat was the sole reserve of the Customer Success team, think again - Drift are on a mission to transform lead generation and sales.
Alternatives: Intercom
9) ONESIGNAL | PUSH NOTIFICATIONS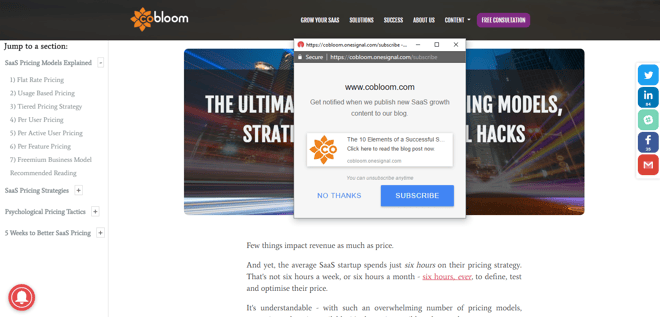 Push notifications make real-time conversation easier than ever, allowing you to notify subscribers whenever you publish a new blog post, or encourage new visitors to opt in to your mailing list - directly within their browser or on their phone.
Alternatives: Urban Airship, Pushcrew
10) WISTIA | VIDEO MARKETING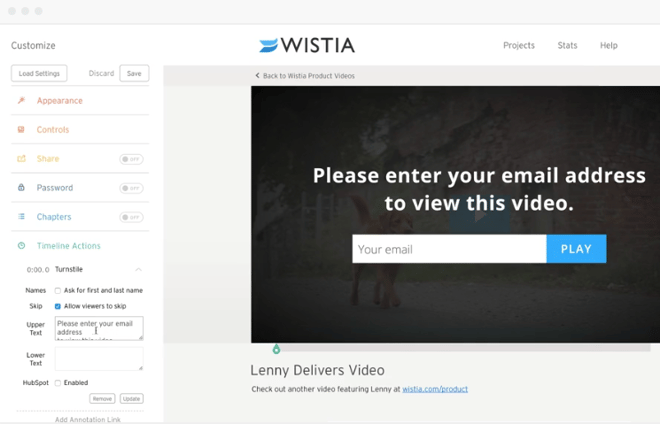 Video marketing is on fire, and if you're looking to capitalise on the trend, you'd do no better than Wistia: a best-in-class video hosting platform, packed-full of inbound marketing-focused analytics and add-ons.
From advanced engagement stats though to content gating and APIs, it's a one-stop-shop for inbound marketers looking to use video to ramp-up their content marketing in a data-driven, customer-focused way.
Alternatives: Vidyard
11) MAILCHIMP | EMAIL MARKETING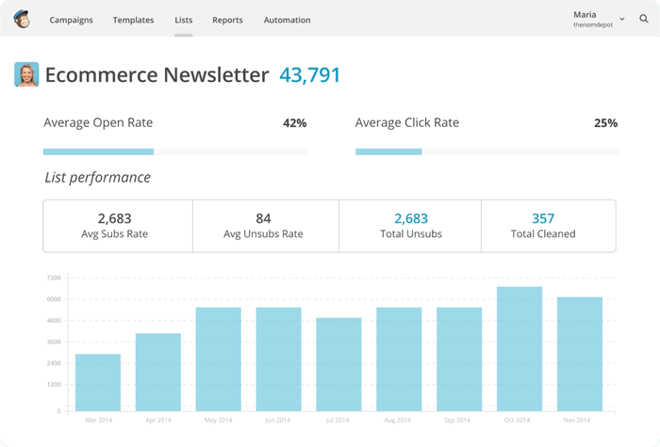 For companies looking for a standalone email marketing tool, you won't go far wrong with MailChimp. It's a tool built with the ethos that email marketing never died: it just changed, requiring companies to switch out their spammy "eBlasts" for personalised, well-timed, one-on-one communication.
MailChimp is perfect for anyone looking to develop and test email templates, manage sign-up lists, segment subscribers, and keep track of the hundred moving parts in an effective email campaign.
Alternatives: ConvertKit, HubSpot, Constant Contact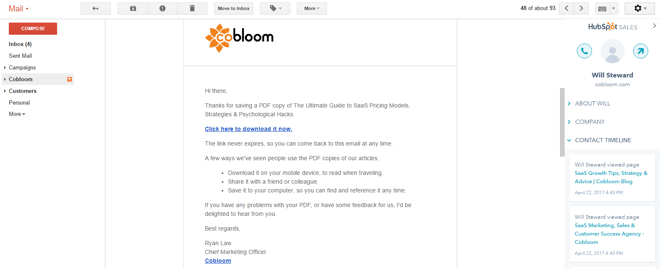 Email can be a real time-drain, especially when it comes to following up with leads, arranging meetings and booking product demos.
That's where a tool like HubSpot Sales comes into its own, allowing you to quickly personalise emails, see when contacts open emails and attachments (just how much of that eGuide did they actually read?), and schedule meetings at the click of a button. It's also great for directly integrating email marketing into your CRM and the rest of your toolstack.
Alternatives: Outreach
13) BUFFER | SOCIAL MEDIA MANAGEMENT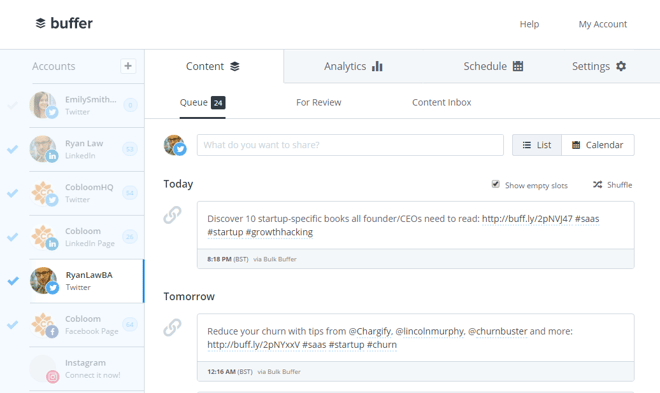 Social media can be an invaluable lead generation channel - and it can also be a massive time sink.
Thankfully, Buffer offers the perfect blend of personalisation and automation, making it quick and easy to bulk schedule updates to all the major social media sites, import content from your favourite blogs, and re-share your top performing content. Their honest and open approach to business also makes them a great case study of the inbound ethos in practice.
Alternatives: Hootsuite, HubSpot
14) STARTAFIRE | CONTENT CURATION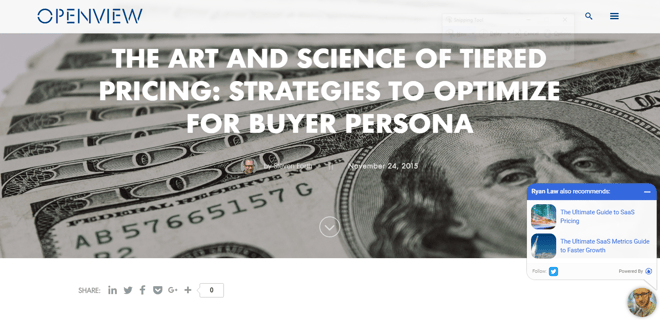 Content curation is a core tenet of any effective social media strategy: sharing third-party content allows you to collate the web's best resources on any given topic, and promote education ahead of your own agenda.
Startafire allows you claim back a bit of the direct benefit of content curation - adding your own recommended content to every third-party link you share, in a helpful, unobtrusive way.
Alternative: Sniply
Talking to real-life customers is an essential part of inbound marketing, and UberConference provides a quick, easy way to hop on a phone or videocall with customers, anywhere in the world.
Best of all (and this is why I use it over Skype), it comes pre-laden with handy marketing-focused tools, including call recording and message transcriptions. It also has the best hold music in the world.
Alternatives: GoToMeeting, Google Hangouts, Skype
16) SPEECHPAD | CALL TRANSCRIPTION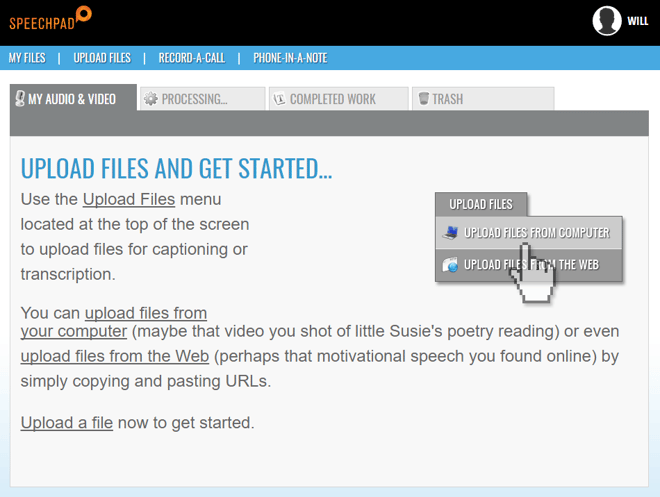 What happens after your customer interview? You might have a few notes, sure... but the real value of the conversation is locked up in your call recording.
Thankfully, that's where Speechpad comes in, offering a quick, professional way to transcribe phone calls, meetings and even videos - perfect for documenting persona insights, creating polished customer testimonials, and turning video content into keyword-rich copy.
Alternatives: UpWork, PeoplePerHour
17) SLACK | COMMUNICATION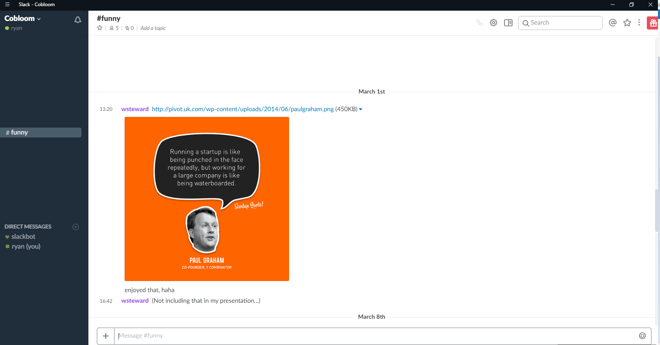 Effective communication is a prerequisite for any inbound marketing activity, whether you're updating the sales team on your next kick-ass campaign, or chatting directly to actual customers about your products and services.
Communication tool Slack has become a household name, and its monumental success is well founded: it's the most intuitive chat tool going, and best of all, it's free.
Alternatives: RedKix
18) VWO | Conversion Optimisation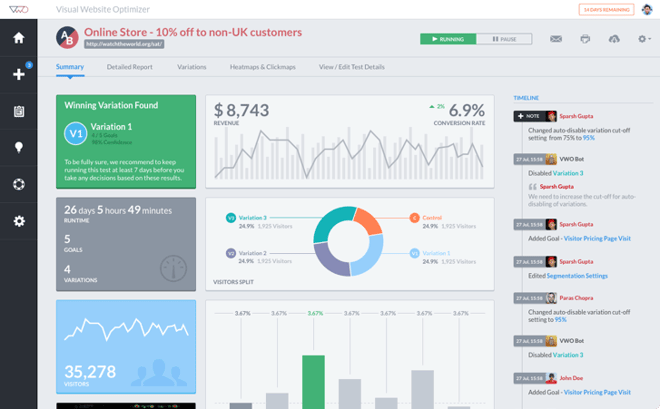 Small changes to your website can have huge impacts on the user experience. Visual Website Optimizer (VWO) provides the tools you need to quickly and effectively A/B test... your whole website.
Any design variation imaginable can created with VWO, and it's a simple matter of setting the split-test live on your site, waiting until the data hits significance, and rolling out the winning variant.
Alternatives: Optimizely
19) Ahrefs | Search Engine Analysis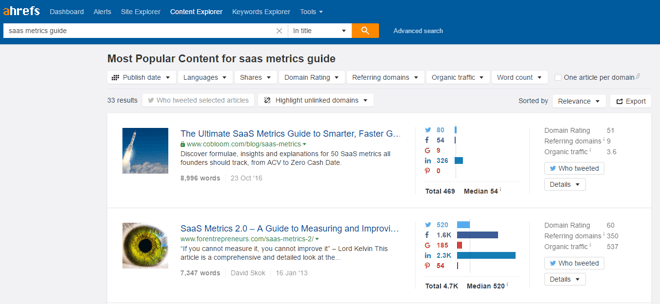 Organic search is the quiet workhorse of inbound marketing, building slowly but surely over time, culminating in a predictable influx of qualified leads, each and every month.
Ahrefs offers an entire suite of search-focused tools, including the obligatory keyword and backlink analysis functionality, alongside some pretty innovative content analysis features (want to create a ranked list of the web's best blog posts on a given topic? Ahrefs has you covered). If you want to bring data-driven strategy to your content creation, you'll need a tool like Ahrefs.

Using Google Analytics (GA) to track website performance is a bit like visiting the dentist: you know you should do it, but you don't really want to.
But here's the thing: the sheer power of GA is staggering. With a little bit of time and reading, Google Analytics can become your company's secret weapon, revealing insights into your performance and customers you won't believe possible from a free tool.
21) HOTJAR | USER EXPERIENCE ANALYsis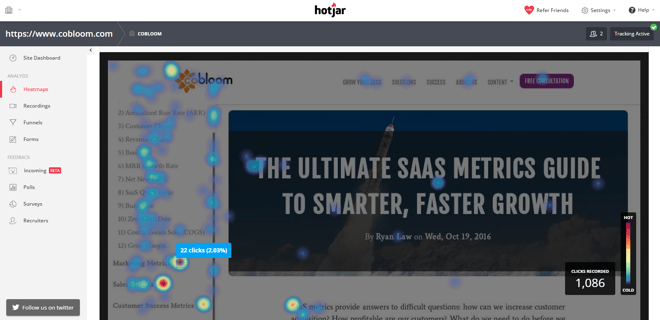 Ever wondered how your visitors actually use your website? Surveys are great, but there's a difference between intention and action, and there's no substitute for actually seeing what visitors do.
In addition to a host of surveying tools, Hotjar also allows you to deploy detailed heatmapping, scroll maps, session tracking, and a plethora of other awesome UX analysis tools - all from within a single interface.
Alternatives: CrazyEgg, Survey Monkey