You want to increase your recurring revenue, right?
I have good news: most SaaS startups are leaving a lot of money on the table, and actually, there's likely many ways you could easily increase your monthly recurring revenue.
I'm not talking about squeezing your customers for every cent possible: I'm talking about 9 MRR hacks to better align the value of your product with the amount you charge for it.
One last thing before we get stuck-in: these MRR hacks look exclusively at ways to increase your monthly recurring revenue, and don't factor in strategies for lowering customer acquisition costs, COGS (Cost of Goods Sold), etc.
Why? MRR is a momentum metric, designed to measure the rate of your revenue growth, and not profitability.
1) Raise your price
Most SaaS businesses are underpriced, for one very simple reason: they don't spend enough time thinking about price.
The average length of time a startup spends on its pricing strategy is six hours. That's six hours to understand the value of your product, analyse your cost structures, margins and competitors' strategies, and calculate the price sensitivity of your customers.
So for a quick win for your MRR, increase your price, by 10, 20 or even 100%, and see how customers respond. If you're underpriced, you'll see a marginal increase in churn and a significant increase in monthly recurring revenue.
2) Ditch the free plan
Free plans can be great for raising awareness of your brand and planting the seed of successful upselling, but in terms of direct revenue generation, they don't achieve a whole lot.
To ramp-up your monthly recurring revenue, ditch the free plan. Will you lose some of your free "customers"? Absolutely. Will it still be worth it? Probably. If your solution is as valuable as you hope it is, the majority of your customers will make the switch to a paid plan (especially if you're underpriced, as in point #1).
If ditching the free plan altogether would be too disruptive, you can always grandfather your existing customers - keeping the free plan but no longer actively marketing it, instead focusing on the promotion of your paid plans.
3) Unbundle your features
This was one of the big steps brand monitoring SaaS Mention took to increase their APRA (Average Revenue Per Account) by a huge 296%. If you currently offer all of your awesome features in a single package, try splitting them out into separate add-on services.
The average customer won't use all of the functionality available to them, and as long as the core value of your product is unaltered, you can justify taking out some of the features and turning them into add-ons. Most customers won't miss them, and the few that need them will be willing to pay for their use.
4) Eliminate unlimited features
The same goes for anything that's "unlimited" in your pricing packages. The price of your solution should increase alongside the value it generates, so whether you offer unlimited storage, unlimited users or unlimited projects, you're leaving money on the table.
5) Move upmarket
If you're serving enterprise businesses, but your pricing strategy is firmly SMB-focused, there's a huge disconnect between the value those big businesses are getting, and the amount of revenue you're getting in return.
Big businesses will pay more for your solution than small businesses, by virtue of getting more value from it, and having bigger budgets to spend. They'll also be your most demanding accounts, so it makes complete sense to add in an enterprise-style package to start reflecting the value you already deliver.
This works best if you're already serving happy, bigger customers: enterprise businesses will have different needs to SMBs, so unless it's clear your solution is already solving their problems, there's no guarantee that adding in extra features will make your solution appeal to the enterprise.
6) Up your upselling
Upselling is powerful tool for boosting your customer's monthly spend, whether they move onto a higher-priced package or choose to add in some of your newly unbundled features.
The key to successful upselling is reaching out to customers at the right time: when they've just hit a success milestones, and moved closer to achieving their desired outcome with your product.
7) Get more leads through the door
Monthly recurring revenue is a product of your customers, which are a product of your leads. Strategies like inbound marketing offer an extremely high ROI, but take longer to reach peak efficacy; and outreach strategies are more direct, but require more investment.
Either way, as long as you're able to calculate marketing ROI (comparing your dollar spend on marketing to the recurring revenue it generates), more leads will equal more recurring revenue.
8) Increase lead to customer conversion rates
Even small increases to your conversion rate will have a huge impact on monthly recurring revenue, so make sure your lead nurturing is up to scratch, and regularly use A/B testing to split-test different sales copy, button placement, messaging and more.
We recommend HubSpot's inbound marketing software for this, you can even get started for free.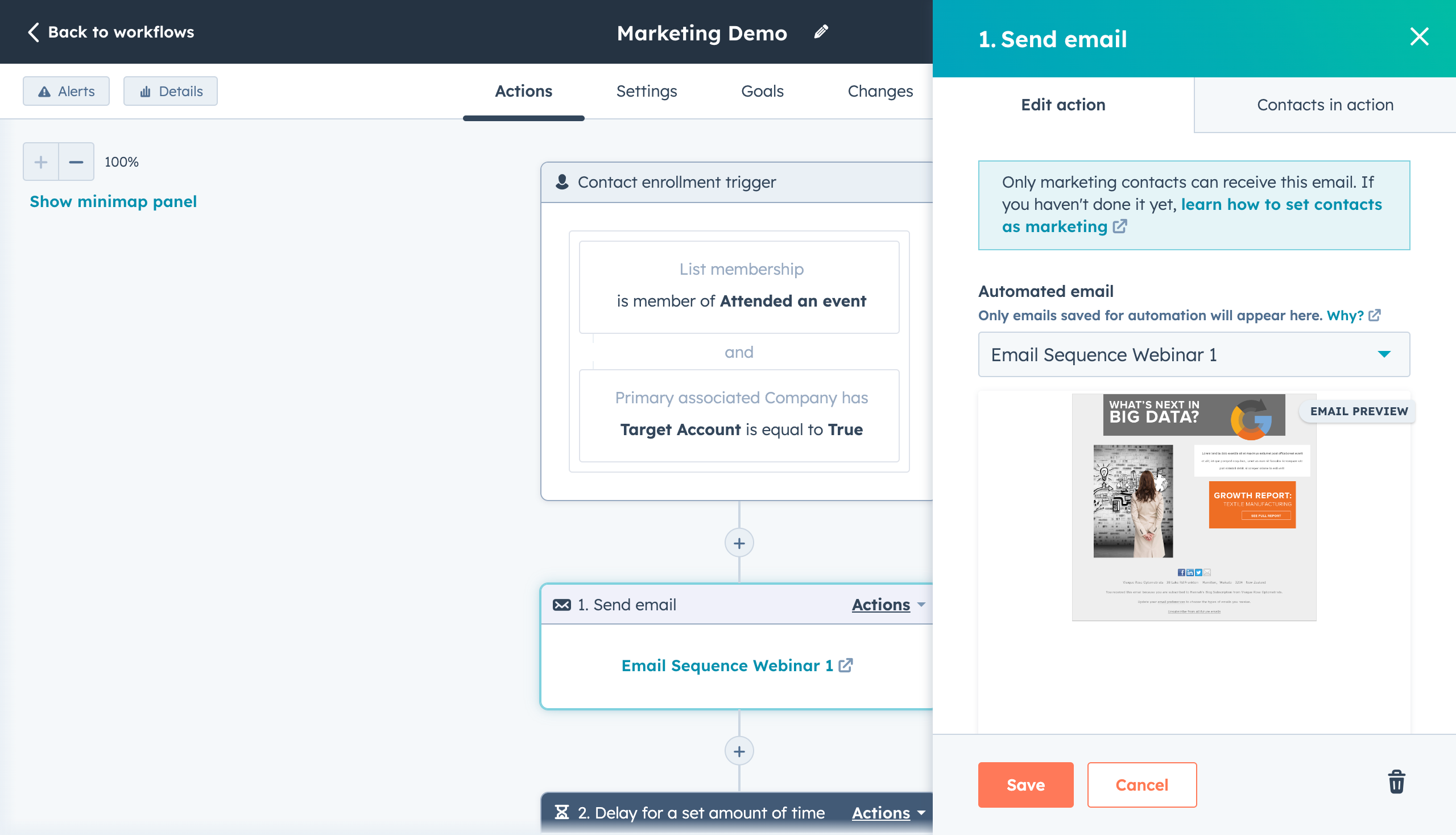 9) Offer yearly pre-payment
If you only offer rolling monthly contracts, try offering yearly pre-payment plans too. By getting customers to commit to a full 12-months, you can dramatically increase customer retention, and boost MRR as a result (just remember to amortize your pre-payments).
Even if you need to offer a discount for the yearly pre-payment option (otherwise why would customers take the hit to their cashflow?), the reduction in churn could still yield a net gain in MRR over the customer's lifetime.