If you can out-learn your competitors, chances are, you'll be able to out-grow them too.
That's why I've compiled the 21 best SaaS blogs around: covering every aspect of growing a successful SaaS company, including marketing, sales, customer success, startup funding, entrepreneurship and more.
For each of these SaaS blogs, I've also hand-picked some of my favourite content, offering a great starting point for anyone wanting to get to grips with each blog.
---
Tomasz Tunguz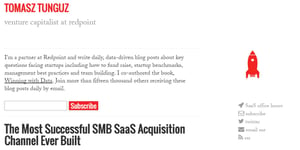 Tomasz Tunguz is a VC at Redpoint, and his blog is a treasure-trove of analysis and insight - especially if you have investment on the horizon, and you're looking to improve key growth metrics. If you're looking for SaaS blogs with the intention of bringing data-driven analysis to bear on your SaaS startup's growth (and you should be), Tomasz's blog is an unbeatable resource.
My favourite SaaS blog post:
How Fast Does a SaaS Startup Have to Grow to Survive?
---
For Entrepreneurs
by David Skok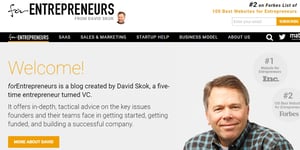 For Entrepreneurs is the home of serial entrepreneur David Skok. After 25 years of founding, scaling and selling software companies, David joined Matrix Partners as a VC. His unique experience on both sides of the startup table makes his blog a goldmine of advice, guidance and inspiration. It's also home to the single greatest SaaS blog post I've ever read: SaaS Metrics 2.0
My favourite SaaS blog post:
SaaS Metrics 2.0
---
Feld Thoughts
by Brad Feld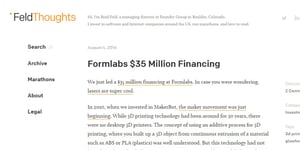 Brad Feld's blog is an eclectic mix of personal and professional musings, drawing on almost 30 years of experience as an entrepreneur and investor. Brad is also a prolific writer, sharing even more advice and guidance on all things startup and investment at Startup Revolution and AsktheVC.
My favourite SaaS blog post:
Don't Forget to Bootstrap
---
SaaStr
by Jason Lemkin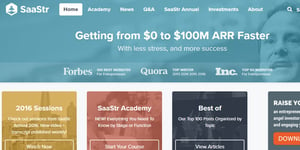 SaaStr is home to the advice and guidance of Jason Lemkin: 2x founder, 1x VC, and advisor to dozens of SaaS businesses. On a near daily basis, Jason shares his stories, experiences and insights on the journey from $0 to $100 million in MRR. Jason is also super active over on Quora, and the SaaStr annual is one of the hottest conferences in SaaS.
My favourite SaaS blog post:
As Long As You Are Growing 60% or More - Your Competition Can't Really Hurt You
---
Chaotic Flow
by Joel York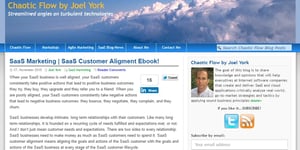 Joel York is a another veteran of the SaaS space, with 20 years of making and marketing B2B software under his belt. Chaotic Flow is one of the more established SaaS blogs around, and provides Joel with a stomping ground for all things SaaS - with his super comprehensive, in-depth posts covering everything from essential metrics and performance benchmarks, to his own personal experiences as a SaaS executive.
My favourite SaaS blog post:
SaaS Metrics | Joel's Magic Number for SaaS Companies
---
Kellblog
by Dave Kellog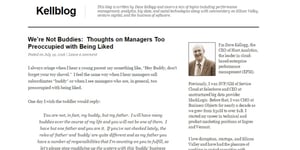 Kellblog draws upon Dave Kellog's decades of experience in the software industry, and tackles topics ranging from high-level management strategy to the pros and cons of specific SaaS metric calculations.
My favourite SaaS blog post:
The Customer Acquisition Cost (CAC) Ratio: Another Subtle SaaS Metric
---
The Angel VC
by Christoph Janz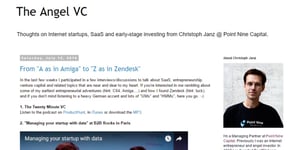 Christoph Janz is a VC and startup veteran with 20 years of experience under his belt. The Angel VC is a repository for the growth and investment insights he's gleamed over the years, and home to Christoph's collection of dashboards, calculators and planning tools, all designed with the SaaS founder in mind.
My favourite SaaS blog post:
SaaS Funding Napkin
---
---
Totango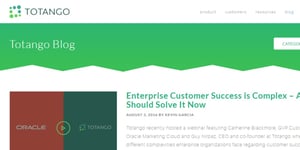 Totango is a SaaS company fixated on improving the customer experience: so it's no surprise that their blog is one of the most comprehensive Customer Success resources around. If you're hungry for SaaS-specific data, Totango also put together awesome benchmarking studies, in the form of their annual SaaS Metrics Reports.
My favourite SaaS blog post:
5 Key Takeaways from this Year's SaaS Metrics Survey
---
Chargify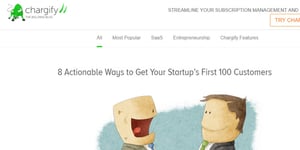 Chargify offers a solution to one of the biggest challenges around: managing recurring revenue. The Chargify blog is equally helpful, offering epic posts, interviews and guides on the biggest and baddest growth challenges going.
My favourite SaaS blog post:
Finding Product/Market Fit: When to Stand Firm & When to Pivot
---
Close.io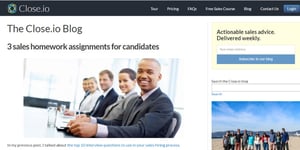 Close.io is a streamlined sales platform, and their SaaS blog combines their sales-specific expertise with their own experiences of running a SaaS startup. As well as offering expert insight into all things SaaS sales, the blog also tackles broader themes of entrepreneurship and startup growth.
My favourite SaaS blog post:
Death by Data: Numbers are Killing Your Business
---
Sixteen Ventures
by Lincoln Murphy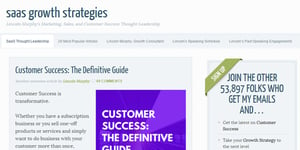 Most SaaS companies are starting to pay lip-service to the importance of Customer Success. But if you're intent on actually understanding and achieving your customers' goals, it's well worth reading through Lincoln Murphy's awesome, in-depth guides: covering everything from pricing strategy to successful customer referrals.
My favourite SaaS blog post:
Customer Success: The Definitive Guide
---
@andrewchen
by Andrew Chen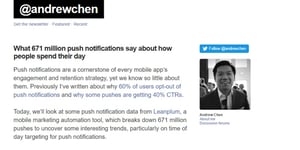 Currently heading up the Growth team at Uber, Andrew Chen is also a serial investor, and advisor to companies including DropBox, Tinder and Product Hunt. He's also one of the most prolific writers on this list, with over 650 of his essays being featured and quoted in publications from the Wall Street Journal to Wired.
My favourite SaaS blog post:
Minimum Desirable Product
---
OnStartups
by Dharmesh Shah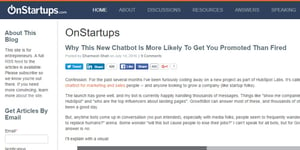 Dharmesh Shah is the co-founder and CTO of SaaS giant HubSpot. OnStartups is home to his SaaS-related musings, research and ideas. Most recently, Dharmesh has published an analysis of 386 startup's pricing pages, and introduced his new GrowthBot project to the world.
My favourite SaaS blog post:
Insightful Study of 386 SaaS Startup Pricing Pages
---
Mattermark
Mattermark deal in data: they uncover insight into the world's fastest growing companies, and help investors and other businesses leverage it to grow. So it should be no surprise that the news, editorials and commentary Mattermark offer contain a ton of actionable, engaging insights on the latest trends in the SaaS and startup space.
My favourite SaaS blog post:
It Takes a Surprising Amount of Seed Capital to Spoil a Startup
---
---
500 Startups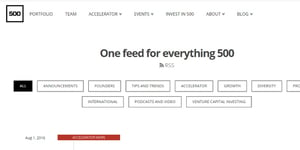 500 Startups is a venture capital seed fund and startup accelerator, based out of Silicon Valley. With a laundry list of startup successes to their name (including Twilio, TalkDesk and Intercom), it's clear that the network of advisors and investors at the fund's disposal really know their stuff: further reinforced by the advice and commentary 500 Startups provide through their stellar blog.
My favourite SaaS blog post:
How to Pitch a VC

---
Startup Journey
by Groove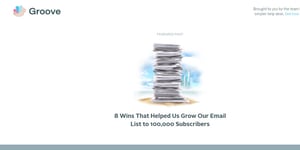 Groove is an all-in-one customer help desk solution, and unsurprisingly, their ethos of helping customers carries through to their own content. Groove's super-actionable growth-focused content is rooted in the company's own meteoric rise to success - and it's a worthwhile read for any SaaS founder looking for SaaS blogs to help scale their own growth.
My favourite SaaS blog post:
Expensive Things That are Worth Investing in for Startups
---
Open
by Buffer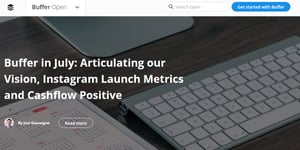 Buffer's Open blog records the highs and lows of running a successful, scaling SaaS company. Documenting everything from monthly financial statements to their recent decision to lay-off 10 team members, the blog is a fascinating, practical guide to actually running a startup.
My favourite SaaS blog post:
From Startup to Scaleup: What We're Changing as We Make the Transition
---
Openview Labs
by Openview Partners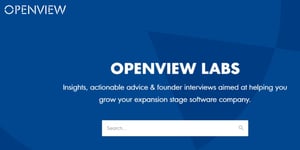 OpenView Labs is the value-add arm of OpenView Ventures, collating the investment firm's advice and guidance on the best practices of scaling a successful SaaS business. Targeted explicitly at "expansion stage" companies, the blog is a must-read for founders preparing to take their business to the next stage of growth.
My favourite SaaS blog post:
A Startup CEO Primer for Scaling Marketing
---
Predictable Revenue
by Aaron Ross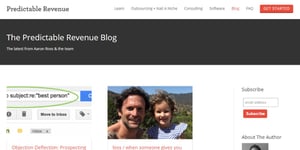 Aaron Ross' sales expertise helped Salesforce grow from $5 to $100 million. Predictable Revenue documents his advice and experience growing SaaS companies, and in doing so, addresses some of the more neglected areas of SaaS growth: particularly the problems associated with scaling sales teams.

My favourite SaaS blog post:
3 Reasons You Need Salespeople to Scale
---
A Smart Bear

by Jason Cohen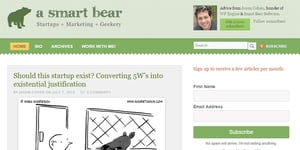 Jason Cohen is a serial SaaS-founder, and his hands-on, technical approach to marketing saw him bootstrap one of his companies, Smart Bear, from seed to scale: all without a single dollar in VC investment. His SaaS blog explores the world of startups, and in particular, startup marketing.
My favourite SaaS blog post:
The Unprofitable SaaS Business Model Trap
---
PMarca by Marc Andreessen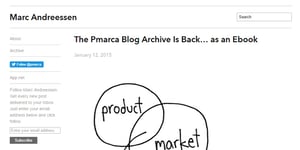 As co-founder of VC firm Andreessen Horowitz, co-founder of Netscape, and a board member at Facebook and eBay, Marc Andreessen is one of the biggest names in software. His long-form essays offer some of the most detailed, insightful and valuable SaaS-guidance available anywhere on the web - a hand-picked selection of which is now available as a free eBook.
My favourite SaaS blog post:
The Revenge of the Fat Guy
---
Whew! You made it to the endof my epic SaaS blogs roundup.
Armed with this arsenal of expert insight and proven advice, your SaaS business stands a great chance at out-growing and out-competing its rivals.
Before you go, I've got one last resource to share with you: our SaaS Growth blog.
Every week, without fail, we post a whole host of new, SaaS-specific content, designed to help you generate leads, close sales and wow your existing customers.
Benefiting from our content is also super easy: just click the bar above to get a once-weekly digest of SaaS growth tips, sent direct to your inbox. Happy scaling!