We've all heard stories of 'disruptive growth hackers' transforming tiny SaaS start-ups into multi-billion dollar businesses.
This type of SaaS growth hacking has allowed creative founders, developers and marketers to achieve incredible growth through the sheer virtue of experimentation - trying any and all tools, techniques and strategies at their disposal to grow their business.
To help you achieve the same stellar growth, we've scoured the web's best SaaS, startup, conversion optimisation, sales and marketing blogs to pull together an epic list of actionable, effective SaaS growth hacking ideas.
We've chosen the most unique, inventive and cost-effective ideas, with the goal of providing you with all the information you need to use these strategies to grow your own SaaS business.
To make the list a bit easier to navigate, we've broken it down into the four crucial components of SaaS growth hacking: attracting new visitors, converting them into identifiable leads, closing sales and delighting your users.
P.S. This isn't an exhaustive list, because it's impossible to exhaust creative, inventive ideas - and after all, that's all SaaS growth hacking is. The last time we updated this list is July 2020.

Growth Hacking With HubSpot
Growing a SaaS company takes a lot of work, and a great strategy for acquiring, retaining and growing the right customers isn't enough on its own. It's important you don't let your growth hacking go to waste by using the wrong toolkit.
Many SaaS startups make mistakes when it comes to their growth software stack: plowing endless resources into bolting together various sales/marketing/customer service tools which more often than not just create a reporting mess.
Taking the DIY approach of throwing together countless tools can seem a tempting way to save money, but in our experience every SaaS startup regrets this approach sooner rather than later, and wishes they had growth software that would scale with their business in place from the start.
In the end you should be focusing your efforts on building, iterating and acquiring customers for your SaaS -- not customising Wordpress plugins or trying to integrate some CRM with all your marketing tools.
That's why we recommend HubSpot to SaaS companies which are serious about growth: as a central platform for all your sales, marketing, customer service & reporting needs. The best thing? You can get started for free.
---
Marketing Hub®
HubSpot's Marketing Hub® provides you with all of your marketing tools and data -- connected in one place. You can start using their email marketing, forms, landing pages, live chat, blog, pay per click ad management and contact management features for free.
Premium versions go much further, including omni-channel marketing automation, retargeting, SEO, blogging, social media management, account-based marketing, testing, predictive lead scoring and advanced analytics covering the entire customer journey.
The marketing hub is designed to help your SaaS reach the right people at the moments when they're ready to take the next step in the purchasing journey: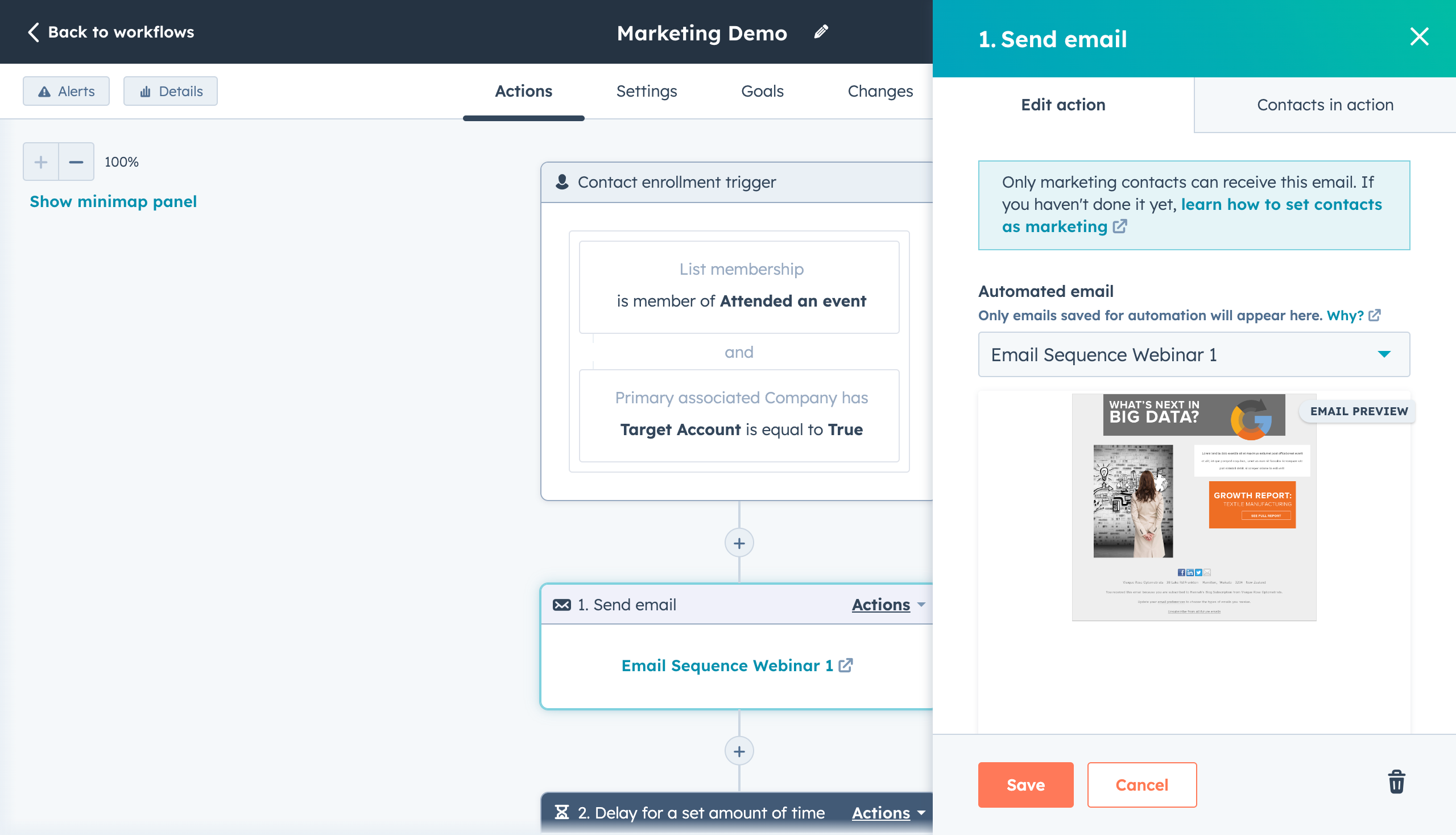 And this really is just scratching the surface.
To learn more about the Marketing Hub®, click here.
---
Sales Hub®
HubSpot's Sales Hub® is all about eliminating friction in your sales process. It combines all your sales tools and data together into a CRM platform which is both powerful and easy-to-use. You can start using the contact management, deal pipeline, quotes, meeting scheduling, live chat & reporting dashboard for free.
Premium versions of the software enable you to scale-up without changing software providers, offering features like sales rep productivity reports, conversation routing, customisable email sequences, team support, custom objects, predictive lead scoring, sales playbooks, forecasting, recurring revenue tracking and more.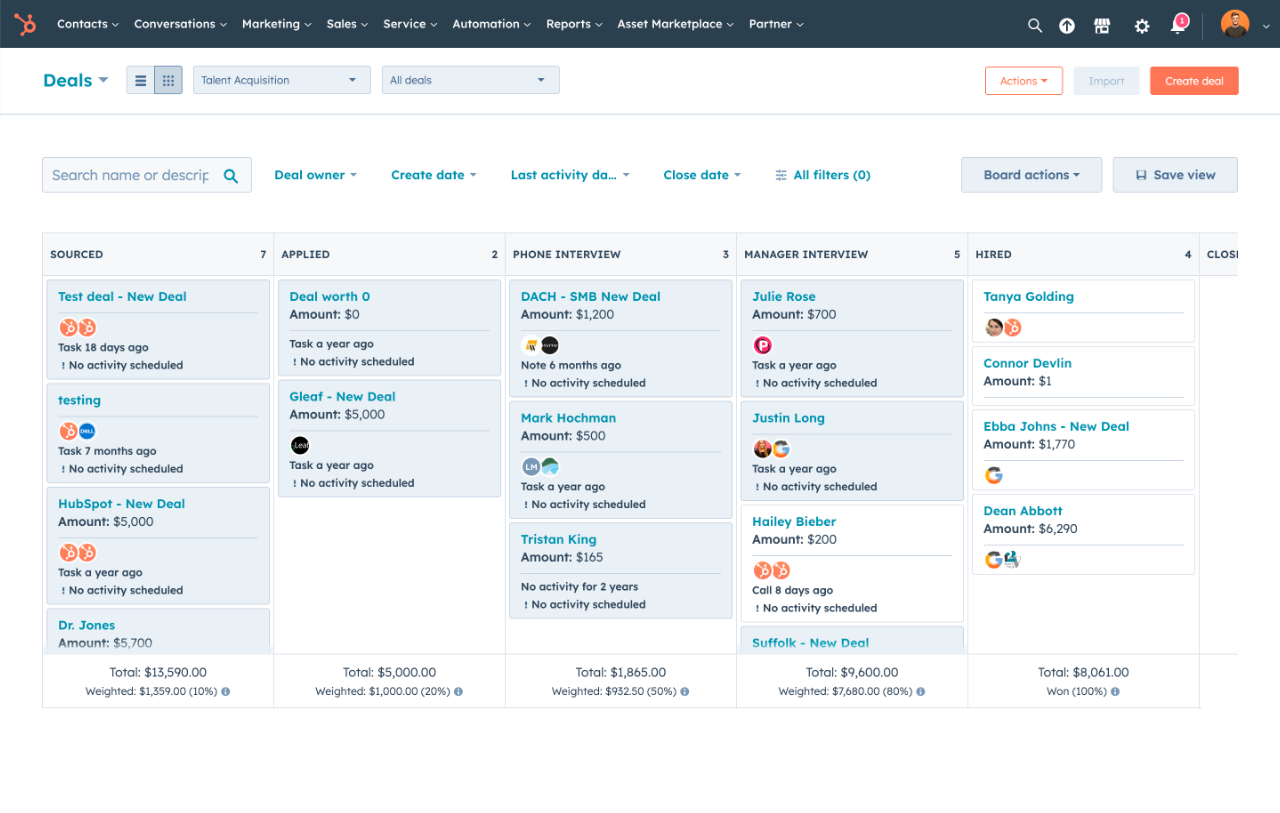 To learn more about the Sales Hub®, click here.
---
Service Hub®
HubSpot's Service Hub® provides you with the tools you need to deliver exceptional customer service: retaining and growing the customers you work hard to acquire. Modern customers expect a lot, and HubSpot's software connects all your customer service data and channels together in one platform, dramatically improving your capacity to provide effective support in a timely manner.
You can start using the contact management, ticketing, live chat, team email, ticket reports and shared inbox functionality for free.
Paid versions of the software allow you to scale up your customer service including functionality like: conversation routing, support ticket automation, ticket pipelines, knowledge bases, help desk automation, customer service playbooks and conversation intelligence. All the tools SaaS businesses need to offer best-in-class support.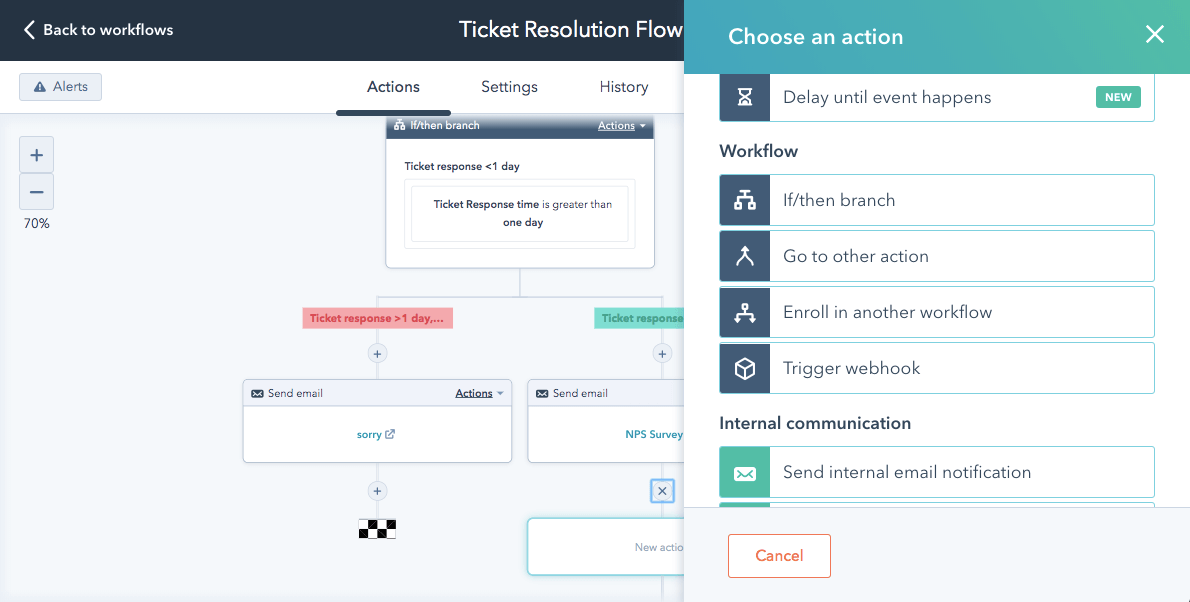 To learn more about the Service Hub®, click here.
---
CMS Hub®
HubSpot's CMS Hub® makes building scalable SaaS marketing websites easy. You can use it to create and personalise website pages for every visitor - optimised to convert across all devices. Flexibility within the CMS and intuitive drag & drop page builders mean you can rely on developers as much or as little as you'd like.
Like HubSpot's other products, you can even start using the website pages, blog, drag-and-drop editor, basic SEO tools, managed cloud hosting & website traffic analytics for free.
Premium versions of the CMS enable you to deploy as many websites/pages/blogs as you want, receive automated advanced SEO recommendations, create dynamic content, build contact attribution reports, perform A/B testing and even do adaptive testing. It's the only CMS for SaaS companies that's both powerful and easy-to-use.
No one wants to go back to Wordpress after using HubSpot's CMS Hub®.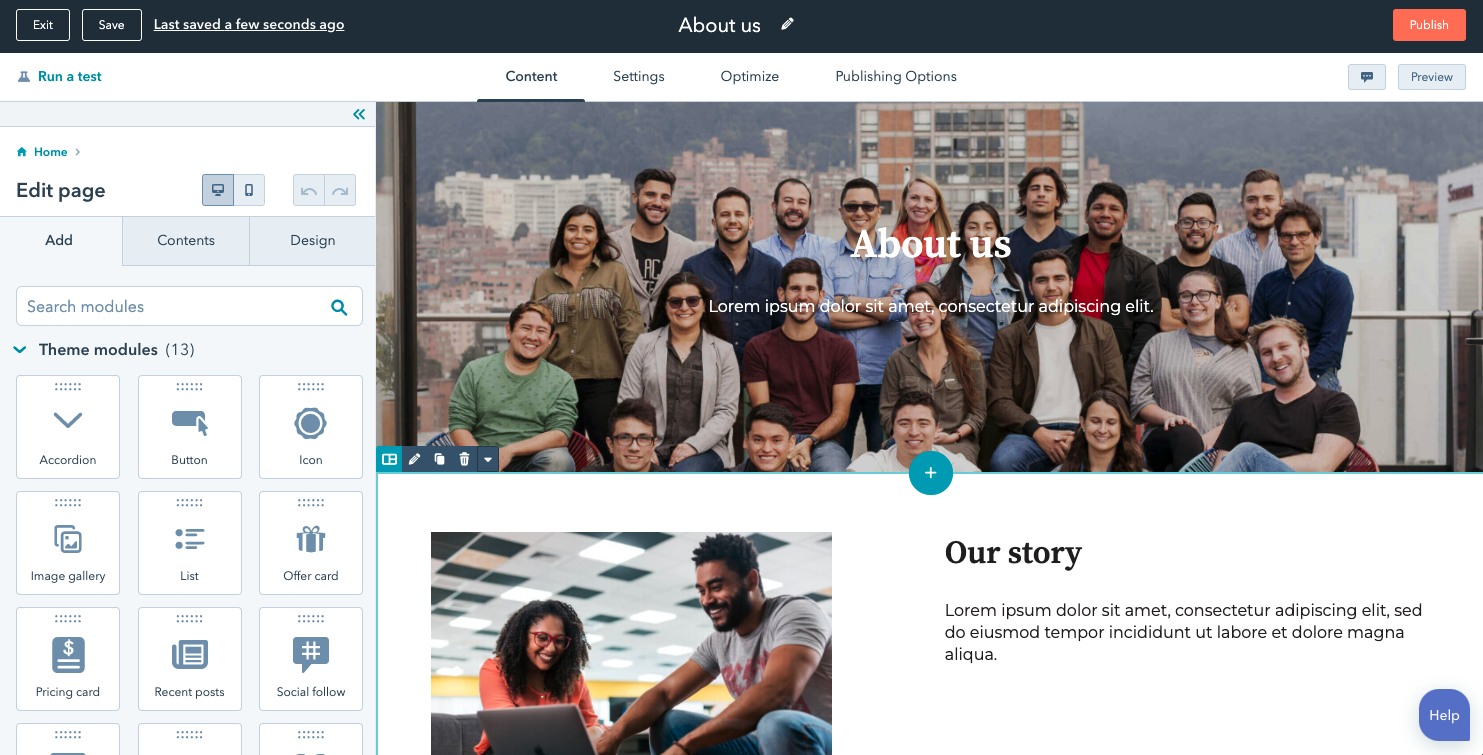 To learn more about the CMS Hub®, click here.
---
Operations Hub®
Finally, HubSpot's Operations Hub® is the glue which helps to keep all your software and data in sync, essential as you grow your SaaS startup. Think of it like a unified toolset that connects apps, cleans & curates data, and automates business processes. It's what enables you to run an efficient, aligned and adaptable SaaS with a consistent customer experience.
The free version allows you to do basic two-way data syncs, standard field mappings, and manage all third-party integrations which HubSpot supports. Paid versions provide you with everything you'll need to scale your operations, including: custom field mappings, programmable automation, webhooks, data quality automation, plus advanced reports, lists, and workflows.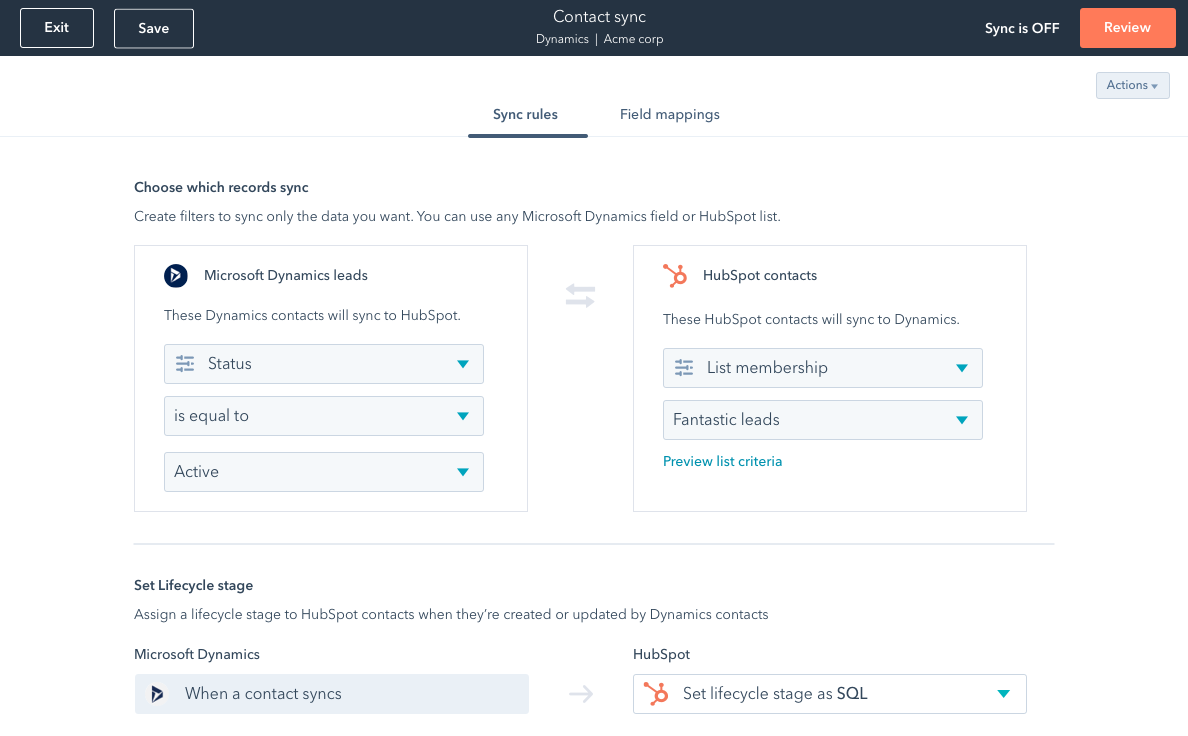 To learn more about the Operations Hub®, click here.
---